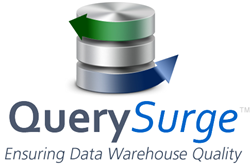 "We are excited to be able to provide our clients with key functionality that they have asked us for - namely, integration to their test management solutions. " - Bill Hayduk, CEO, RTTS (developers of QuerySurge)
New York, NY (PRWEB) January 13, 2015
QuerySurge, the Big Data testing solution, just released version 3.6, which provides integration with the premier test management solutions in the QA and testing space.
Connectors are available for:

HP Quality Center/ALM (versions 10+)
Microsoft Team Foundation Server (2010+)
IBM Rational Quality Manager (versions 4.x+)
QuerySurge connectors support integration with industry-standard Test Management Solutions and provide the following functionality:
drive QuerySurge execution from your Test Management Solution
view all test results from QuerySurge to your Test Management Solution
drill down into all QuerySurge results with one click
QuerySurge was built specifically to automate the testing of data, whether in data warehouses, Hadoop, NoSQL document stores, databases, flat files, Excel or xml. QuerySurge ensures that the data extracted from sources remains intact in the target systems by analyzing and pinpointing up to 100% of all data differences quickly while providing real-time and historical view of your data's health over time.
For more information, please visit us at http://www.QuerySurge.com