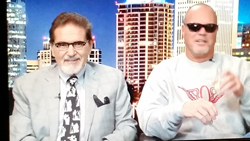 "I've started feeling good again…I can concentrate, read, and relax, It's changed the outlook of my life." NFL Hall of Famer - Paul Krause
Scottsdale, Arizona (PRWEB) January 16, 2015
NFL Legend and two time Super Bowl Champion Jim McMahon and SottoPelle® founder and medical director Dr. Gino Tutera were interviewed today on Bloomberg TV on how SottoPelle® therapy is helping McMahon and others.
Beyond the use of helping conditions related to aging like Menopause and Andropause, Bio Identical Hormone Replacement Therapy is being shown to successfully treat other conditions.
Some professions such as the military, law enforcement, and/or athletes have higher risks and are prone to injury. NFL players and military (active service and veterans) often experience head injuries and suffer the medical problems associated with Traumatic Brain Injury (TBI).
Recent media has highlighted the prevalence of TBI suffered by athletes over the decades. Current and retired NFL players who have experienced TBI are getting the help they need and are experiencing documented improvement in many areas of their lives. SottoPelle® Therapy is assisting these patients with their fibromyalgia, depression, fatigue, and other chronic medical concerns. As these players age, many have reported complications of TBI worsening without treatment.
SottoPelle® is committed to helping NFL players, veterans, and anyone else with TBI to improve their quality of life. The unique and proprietary patent pending BioCalc® dosing tool was created to facilitate the precise methodology of SottoPelle®. We are happy to announce that this tool is now patent pending. BioCalc® represents a key differentiating factor for the patient's treatment by providing accuracy in the delivery of the required dose of the Bio Identical Hormone Therapy (BHRT).
A good analogy for the process is when your tires need to be balanced, it can be a rocky ride for the driver. All tires require special settings, just like people. BioCalc® doses balanced hormones so your body can work at maximum performance.
Utilizing this proprietary tool and decades of SottoPelle® experience, NFL players are seeing significant results. 2x Super Bowl champion Jim McMahon has recently started the subcutaneous hormone pellet therapy, and has already seen improved mood change, less fatigue, and other complaints substantially relieved. McMahon has had multiple career injuries and experienced lingering and ongoing pain, physical and mental decline. He is the co-Founder of Players against Concussions. Other athletes have reported the same problems and have experienced life changing progress and relief with SottoPelle® Therapy.
The Hall of Fame Players Paul Krause, Bobby Bell, and Joe DeLamielleure, members of the HOF Players Foundation were feeling the effects of long athletic careers. They wanted to be and keep active. The ability to exercise and remain active without pain allows patients to maintain autonomy and relieve many other health problems. Increasing energy levels with pellet therapy will increase and aid in motivation to resume exercise and promote muscle growth and repair. Increased activity will also aid in enhanced and better moods.
Its simple physics, "things in motion, stay in motion." For active individuals like these HOF players and other athletes, the inability to maintain previous activities is depressing, it can also lead to a heightened risk of heart disease. By correctly dosing and managing hormonal balance, not only are the patients feeling better, but are actively reducing cardiac inflammation, plaque, incidence of diabetes, and metabolic syndrome.
Our physicians are located across the globe. All of our doctors are extensively trained, vetted for appropriate qualifications, and are very experienced. There is a reason why HOF and NFL Legends, choose SottoPelle®, they know a winner when they see it.
At the end of the day, we all age. SottoPelle® as the leader in BHRT is helping patients to age naturally and well. You only age once - pick your solution wisely, SottoPelle® is your MVP for hormonal management.
#########################
CHARITY INFORMATION
For more information about the HOF Players Foundation and/or Super Bowl XLIX events, visit http://www.HOFPlayers.org. The HOF Players Foundation, Inc. (HOFPF), is incorporated as a nonprofit in the state of Georgia and is seeking to obtain federal tax-exempt status under Section 501(c)(3). Although IRS recognition of federal tax-exempt status cannot be guaranteed, contributions made to HOFPF while its application is pending would qualify as tax-deductible for federal income tax purposes to the fullest extent of the law. Please consult your tax advisor for specific advice regarding the tax-deductibility of charitable contributions.
Players Against Concussions (PAC)
Players Against Concussions (PAC) is dedicated to becoming global leader in concussion education, research and treatment options.
COMPANY INFORMATION
SottoPelle® is an international leader in Bio-Identical Hormone Therapy headquartered in Scottsdale, Ariz. The company is also creator of BioCalc®, a pellet-dosing tool that has a patent pending to SottoPelle® Founder Dr. Gino Tutera, M.D., F.A.C.O.G. For more information on SottoPelle®, visit: http://www.SottoPelletherapy.com
SOTTOPELLE® MEDIA CONTACT
Catherine J. Rourke
Communications Director
Medical Journalist
Phone: 480-682-4814, ext. 287
Fax: 480-941-1518
Cell: 928-300-5568
Email: CRourke(at)sphrt(dot)com