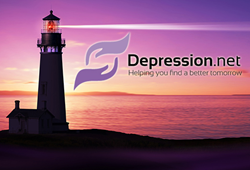 Depression.net Helping You Find a Better Tomorrow
(PRWEB) January 14, 2015
Depression.net (http://www.depression.net/) is a social network dedicated to helping people suffering from depression to find a cure for this disease.
Depression.net provides current articles and research along with posting the most recent clinical trials available to the public. At depression.net people gather together to share their stories in fighting this common disease.
Depression.net shows how people suffering from depression can in fact be cured from this disease.
TRPN founder Blaine Pollock is the creative force behind Depression.net. (http://www.depression.net/) Mr. Pollock has dedicated his life to providing global health services and education.
Follow Blaine Pollock at: BlainePollock.com and BlainePollock.net