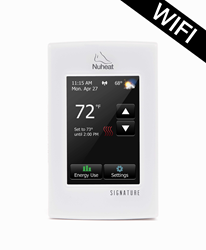 "We saw the need for a WiFi/touchscreen thermostat, so we created the SIGNATURE; this has been re-assured by the market's response." Wally Lo, Nuheat Product Manager
Vancouver, BC (PRWEB) January 14, 2015
Nuheat continues to bring the Internet of Things into the radiant floor heating industry with the release of the Next Generation of Thermostats. "We continuously make incremental product improvements each year to our already market leading product line by asking and listening to our customers. We saw the need for a WiFi/touchscreen thermostat, so we created the SIGNATURE; this has been re-assured by the market's response." Wally Lo, Nuheat Product Manager.

SIGNATURE – control your floor heat anytime, anywhere; the first and ONLY Wi-Fi controlled thermostat for floor heating complete with weather updates, energy monitoring, and remote access via free smartphone apps (iOS and Android) or a web browser
HOME – floor heating in high resolution; with the 7-day programmable, 3.5" color touchscreen display, and sleek acrylic design
element – radiant heating made simple; featuring simple "up" and "down" temperature control with clock display and energy monitoring
Nuheat is the industry leader in radiant floor heating with an easy to install and energy efficient product line. Nuheat has been an innovative frontrunner in the market for over 25 years with the industry's only pre-built customized solution, made specifically for any shaped room; even a shower bench or staircase with no cold spots.
Custom Mat – built to order in only 3 days; customized to fit the exact measurements of the space, so every inch of the floor will give off warmth with a quick and easy installation process
Standard Mat – quick and easy; offering over 60 standard off-the-shelf square and rectangle sizes ideal for most room layouts
Cable – offering the ultimate in installation flexibility; newly designed cable guides and low-profile cold lead, allows for instant on-site adjustments to the floor heating coverage for any room including those with curves and angles
After one of the coldest winters in 20 years, Nuheat has a solution with their snow melting and freeze protection products.
Weather-Ready™ Snow Melt – never shovel snow again; ideal for electric snow melting applications in concrete, asphalt or under paving stones
Weather-Ready™ Heat Trace Cables – roof & gutter de-icing; installed on roofs and placed inside gutters and downspouts to create and maintain drain paths for water
Self-Regulating Pipe Protection – automatically adjusting technology to optimize energy consumption; installed on metal and plastic pipes to prevent them from freezing
Come see us at IBS Booth C8248 and SURFACES Booth B4430 to meet our team and be the first to see our Next Generation of Thermostats!
-30-
About Nuheat
Nuheat is North America's leading manufacturer of electric floor heating systems and a distributor of heat trace for pipes, roof & gutters and slab. Nuheat leads the industry in customer support with an experienced Sales and Customer Care Teams that have been serving customers and calls related to electric floor heating since 1989.