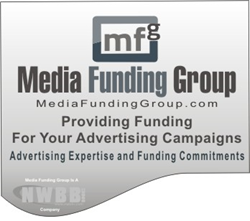 We will continue to increase our funding commitments throughout 2015
Washougal, WA (PRWEB) January 13, 2015
Media Funding Group, a NWBB Inc. company, headquartered in Washougal, WA announced today the completion of 6.2 million in advertising funding in the fourth quarter of 2014 and an infusion of an additional $8 Million in media funding and advertising financing capacity is being made available for the 1st quarter of 2015.
Media Funding Group provides advertising expertise and private funding access for Advertising and Marketing campaigns in exchange for equity based investments or revenue share participation announced today that they completed funding commitments in the fourth quarter of 2014 for 16 companies representing a wide array of industries and products.
The $8 Million in increased funding commitment for the 1st quarter of 2015 is being made available across all programs offered by Media Funding Group including:
Advertising Venture Capital.
Advertising For Stock, Equity Based Financing.
Retail Product Placement Support.
Direct Response Campaign Funding.
Funding division Vice President, Marc Hatch stated that they were very pleased with the funding commitments made in 2014. All 16 recipients were chosen based on their product or service's ability to recognize substantial increases in sales through an aggressive advertising campaign. He further stated that they look forward to a continued increase in commitment levels throughout 2015 to those companies that can benefit from the media funding and ad funding solutions they offer.
More information on Media Funding Group is available by visiting http://www.MediaFundingGroup.com