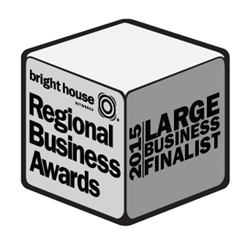 We are honored to be recognized by Bright House Networks as a local business doing big things, and we will continue to foster our strong connection to the community.
Tampa, FL (PRWEB) January 14, 2015
Kobie Marketing announced today that it has been named a finalist in Bright House Networks second annual Regional Business Awards. Kobie was named a finalist in the large business category for the awards, which honor the companies, organizations, and people who have impacted the Tampa community with their products, services, and thought leadership. Winning businesses will be honored at a special celebration on February 5, 2015 at the Tampa Convention Center.
A recognized leader in the loyalty marketing industry, Kobie has been headquartered in St. Petersburg for 25 years. Alchemy, Kobie's proprietary technology, continues to rank best in class by a major independent research firm. Clients include well-known brands such as Verizon, AMC Theatres, T.G.I. Fridays, Royal Bank of Canada, and Hawaiian Airlines.
"Although we serve national and global clients, we've made a significant impact in the Tampa Bay area through job creation and philanthropic involvement," said Michael Hemsey, President of Kobie Marketing. "We are honored to be recognized by Bright House Networks as a local business doing big things, and we will continue to foster our strong connection to the community. We look forward to celebrating alongside the other finalists in February."
Bright House Networks has teamed up with Chambers of Commerce in Hillsborough, Pinellas, Polk, Pasco, Hernando, Citrus, Manatee and Sarasota counties to host this event connecting local businesses in a celebration of best-in-class. Bright House Networks will award prizes totaling over $1,000,000, including commercial TV production, air time, customer newsletter, and cash.
For more information about the Regional Business Awards and to purchase your tickets/tables, visit http://www.brighthouse.com/RBA or connect and follow #BrightHouseRBA on social media.
About Kobie Marketing
Kobie Marketing is a global leader in loyalty marketing and an industry pioneer, delivering end-to-end strategy, technology and program management solutions. For 25 years, Kobie has provided innovative loyalty experiences to the world's most successful brands, helping clients receive incremental revenue, product and household penetration, and brand advocacy. Kobie drives results and ROI through Kobie Alchemy®, a best-in-class loyalty marketing technology platform. To learn more, visit http://www.kobie.com.
About Bright House Networks
Bright House Networks is the sixth largest owner and operator of cable systems in the U.S. and the second largest in Florida, with technologically advanced systems located in five states including Florida, Alabama, Indiana, Michigan and California.
Bright House Networks serves approximately 2.5 million customers who subscribe to one or more of its video, high-speed data, home security and automation and voice services. The company also offers a strong portfolio of customizable, advanced business solutions for video, voice, data, cloud-based and managed services. The company is MEF-certified and also recently received the Cisco® Master Service Provider Certification under the Cisco Cloud and Managed Service Program, the first cable operator in the United States to achieve this designation.Bright House Networks also owns and operates exclusive, award-winning, local news and sports channels in its Florida markets.
For more information about Bright House Networks or our products and services, visit brighthouse.com, read our blog House2House, or get social with us at @BrightHouseNow, or on Facebook and LinkedIn.