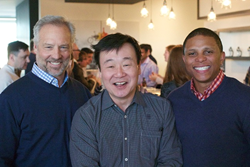 We are thrilled to be joining Kinetic. We believe this will be a very dynamic combination of technology, creative and strategic capabilities. - Brock Stechman, BCG Founder
Leawood, KS (PRWEB) January 14, 2015
Kinetic Supply Company, an emerging big data analytics and software solutions firm, announced today that it has acquired prestigious Kansas City-based digital marketing agency Brockton Creative Group.
Brockton Creative Group is widely known as a trailblazing full-service digital agency specializing in evidence-based content strategy, marketing, website development, branding, video production and advertising. Brockton's entire staff has been retained by Kinetic and will remain in their Westport, Missouri offices. Kinetic is currently developing a 15,000 square foot software development studio and office suite project nearby in Westport to supplement their Leawood, Kansas headquarters.
Kinetic Supply Company, part of the Anthem Ventures portfolio of companies, has quickly emerged as a maverick in the data driven solutions, attracting the attention of leading companies like Microsoft, Hallmark, JG Wentworth, Sentient Technologies, and Silpada Designs among others. Kinetic CEO Jae Cha is a technologist who previously built the digital insight and activation tool, SEER, which helped propel VML into the world's largest digital agency.
"We are thrilled to be joining Kinetic. We believe this will be a very dynamic combination of technology, creative and strategic capabilities. Collectively, we will be able to provide cutting-edge marketing services for our clients." Brock Stechman – Founder, Brockton Creative Group
"This partnership is so exciting to me mostly because of the new value we can add to all of our current client relationships. We've enjoyed some long term relationships with great organizations including Cosentino's, Kansas City Parks & Recreation and Variety the Children's Charity. It is exciting to deploy Kinetic's software and services for the benefit of our clients." Tim McCoy – Managing Director, Brockton Creative Group
"I am particularly excited about this chapter in our growth. Tim McCoy and Brock Stechman have built an incredible team that consistently exceed client expectations with a unique recipe for evidence-based marketing solutions. Our clients will enjoy even more depth and breadth of knowledge and capabilities as a result." Jae Cha - CEO, Kinetic Supply Company
About Kinetic Supply Company
Kinetic utilizes sophisticated proprietary technology platforms to navigate real-time activity and interactions to reveal opportunities and bring unprecedented speed, predictability and adaptability to every aspect of business function. Kinetic's big data driven offerings including consulting services, proprietary software solutions, and capabilities around custom development and traditional software deliveries to provide a broad set of analytics and deployment tools organizations need to handle big data and extract value from it. From descriptive, predictive and prescriptive to cognitive, including predictive capabilities that allow clients to model once and deploy broadly on both structured and unstructured data.
Kinetic Supply Company is part of the Anthem Ventures portfolio, a collection of advanced business solutions companies providing service to more than 4,000 clients in the U.S., Canada and Europe.
About Brockton Creative Group
Brockton Creative Group is a melting pot of skilled strategists, savvy content marketers, innovative designers and creative developers. Brockton Creative Group is built on old-school values like hard work, integrity and craftsmanship.
Since 2005, Brockton Creative Group has utilized cutting-edge technology and processes to build unforgettable brands for over 150 organizations.
More Information
For additional information about Brockton Creative Group or the business partnership, call Anthem Ventures at (913) 894-6923. Visit the company website at http://thisisamg.com/