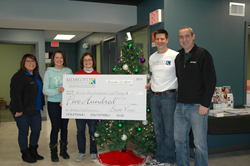 "Helping the Interfaith Food Pantry each year has become a holiday tradition for our company and its employees. Working side by side, we know we are making a difference and it's an invigorating feeling for all of us."
(PRWEB) January 14, 2015
For the fourth year in a row, the staff of Aurora-based Kelmscott Communications volunteered their time and resources to help the Aurora Interfaith Food Pantry provide food to hundreds of area needy families. The full-service marketing solutions provider also donated $500 towards the purchase of fresh hams to distribute to the food pantry clients for their holiday meals.
About 18 employees participated in bagging and distributing the food at Interfaith Food Pantry including Jason M. Tews, Vice President at Kelmscott. "Helping the Interfaith Food Pantry each year has become a holiday tradition for our company and its employees. Working side by side, we know we are making a difference and it's an invigorating feeling for all of us," he said. "Everyone has a special story and as we wish the families Merry Christmas, we are reminded of how fortunate we are for all we have, and how important it is to help each other."
The Aurora Interfaith Food Pantry has served the area since 1981 and supplies food and groceries to local households with limited financial resources. The meals they provide help prevent hunger, homelessness, and illness. The Pantry obtains food through community food drives, donations from individuals, businesses and organizations, and monetary donations and grants. The organization is located at 110 Jericho Road, Aurora, IL 60506.
###
About Kelmscott Communications:
In business since 1936, Kelmscott Communications is a full-service marketing solutions provider with a wide range of capabilities including: strategy, design, e-business, targeted mail, data management, promotional products, and traditional and large format printing. Through its proprietary Kelmscott Connect, the company combines robust production capabilities with a systematic approach to help multi-channel marketers achieve measureable results and enhanced value. Kelmscott Communications is located in Aurora at 1665 Mallette Road. For more information, call (630) 898-0800.