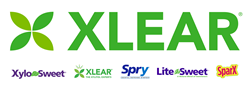 Xlear and our employees are thrilled to partner together to fight poverty in our area.
AMERICAN FORK, UT (PRWEB) January 15, 2015
Xlear Inc., the recognized leading manufacturer of natural health products announced today that it donated over 20,000 meals to the Community Action Services and Food Bank to fight hunger in the surrounding communities. Xlear employee's annually participate in their Iron Man Challenge and part of the company's commitment to both philanthropy and well-being. The goal is to complete miles equivalent to a Triathlon over a period of about 6 weeks which consists of swimming 2.4 Miles, running 26.2 miles and biking 112 Miles for a total of 140.6 miles. Xlear Inc. then donates to the Community Action Services and Food Bank based on the number of miles their employees swim, run/walk and bike. 15 employees completed the 140.6 miles with an additional 15 completing at least half the challenge, roughly 70.3 miles per person.
Xlear Inc. then presented the donation to Community Action Services and Food Bank, a non-profit organization in Provo that serves the needs of low-income people and families in Utah County.
"We're excited to again partner with Community Action to contribute to their efforts to feed those in need in our community," said Tom Macdonald, CEO at Xlear Inc. "Xlear and our employees are thrilled to partner together to fight poverty in our area."
"Xlear Inc. has been able to help relieve poverty in our local community for the past fourteen years," said Ryan Hogan, Communications Director at Xlear Inc. "We've had enormous success with our humanitarian efforts around the globe, and this program is part of our ongoing commitment to help fight poverty in the areas where we live and work."
Since its inception in 2001, Xlear Inc. has donated funds to nonprofits in their community making a difference in tens of thousands of lives. The company collaborates with nonprofits and governments abroad on relief efforts; and motivates individuals and corporate partners to pursue charitable action in the community.
About Xlear, Inc.
Founded in 2000, Xlear Inc. (pronounced "clear") is recognized as the leading manufacturer of natural, health promoting xylitol products. Xlear Inc. is committed to providing consumers with the highest quality products while striving to educate medical and dental professionals, as well their patients, about the overall health benefits of their natural sweeteners. Xlear Inc. is supported by a team of doctors, hygienists and scientists who advocate the use and benefits of xylitol through continuous clinical research. Xlear Inc. offers Xlear Nasal Spray™ an award-winning, patented saline and xylitol nasal solution; a complete line of oral health products offered under the Spry Dental Defense System™ brand; XyloSweet™, raw xylitol crystals used as a sugar substitute in cooking, baking and general consumption; and SparX™ Candy, dental health improving candies. Xlear Inc. is based in American Fork, Utah. Xlear products are available in more than 30 countries worldwide through more than 5,000 stores and e-commerce sites. For more information visit http://www.Xlear.com.