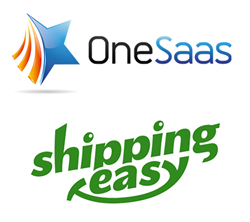 (PRWEB) January 20, 2015
OneSaas and ShippingEasy today introduced a new integration partnership to offer seamless data integration for low cost shipping labels from leading accounting applications QuickBooks Online and Xero and popular accounting carts including Adobe Business Catalyst, ePages, 1&1 and AmeriCommerce.
"We believe frictionless information flow between systems is finally in the sights of ecommerce merchants. Partnering with OneSaas means order information from a long list of software providers in the ecommerce eco-system can be auto-populated to shipping labels and then cost and tracking information sent back - in real time." said ShippingEasy CEO Katie May.
"The ShippingEasy integration makes it easy to generate competitive priced shipping labels from the many apps we connect, an important value-add for retail businesses that depend on us to get their business apps working happily together," said OneSaas CEO Jeff Perlman.
The savings are significant too. ShippingEasy offers Commerical Plus Pricing on USPS packages that can cut postage costs by up to 46%. In addition, Perlman says business owners using OneSaas save many hours per week thanks to the automation. Human errors are now a thing of the past and the humans that used to make them are focusing on tasks where they can contribute more value to their businesses instead of rote data entry. ShippingEasy also offers customer support via phone, chat, and email so merchants won't lose precious time on shipping when they could be focused on growth.
"When all your apps get along, everyone's happy", said Perlman, "and that's what OneSaas does for ShippingEasy customers."
OneSaas is available to try for free, and premium plans start at $29/month. ShippingEasy offers a one month free trial for all plan types.
----
About OneSaas
Since 2010, OneSaas has been enabling independent, best of breed cloud software to work happily together as bundled business solutions for small and medium retail and sales organizations. Through a hub-based integrations model and a simple, use-case driven user interface, OneSaas customers can automate end-to-end workflow processes for sales through to accounting, fulfillment and email marketing, without any need for technical help. Manual data transfers and human errors are eliminated and valuable time is freed up delivering significant savings to businesses. More than 30 of the most popular apps are supported – with more being added regularly. OneSaas. Now everyone's happy.
Learn more about OneSaas at http://www.onesaas.com/
About ShippingEasy
ShippingEasy provides online merchants with the easiest cloud-based shipping solution enabling order consolidation across multiple channels and multiple carriers, including USPS, FedEx and UPS. ShippingEasy integrates with leading marketplaces and store platforms to allow order, tracking and fulfillment data to populate in real time across all systems. Discounted postage and a free plan for smaller merchants are all part of the ShippingEasy package. The ShippingEasy app is PC a­nd Mac compatible and available through any web browser.
Learn more about ShippingEasy at http://www.shippingeasy.com/