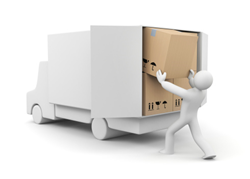 Atlanta, GA (PRWEB) January 15, 2015
AQuickDelivery, a recognized leader for same-day delivery and transportation services announces its multi-stop same-day delivery services. The announcement comes in an effort to market its value-added, volume courier service options, expand its current customer base and increase online courier sales. The Atlanta courier is a premier one-stop courier that offers same-day delivery logistic solutions throughout the Atlanta and Metro-Atlanta area.
Multi-stop same-day delivery services consists of the courier picking up various packages from one location and then delivering them to multiple locations within the business day, even including after hours. From envelopes to palletized freight, this type of same-day delivery can involve client branches, offices or their customer locations. Clients simply submit an order for AQuickDelivery multi-stop same-day delivery service by phone or online via its' online customer support form. For a high volume of stops, customers are recommended to contact a customer representative and sales personnel via phone to discuss the scope of the multi-stop delivery request.
The multi-stop same-day delivery service has many benefits. This type of service ensures that each package is delivered within a specified business day in a timely manner. It also creates cost savings, allowing AQuickDelivery to pick up all packages at once and then deliver. Tracking online and delivery e-mail confirmations are also sent at each stop, informing customers of the overall service status for all participating locations.
Customers can request AQuickDelivery to perform the highest level of volume and complex multi-stop same-day delivery services. For any questions regarding a multi-stop same-day delivery order, location change or delivery instruction adjustments, AQuickDelivery is available 24/7 to assist its' customers with any of their courier service needs.
AQuickDelivery is a premier same-day courier offering transportation and distribution services. From small packages to palletized freight, AQuickDelivery delivers fast. As a leader in the courier industry, its' goal is to perform optimal courier logistic solutions and superior customer service every time. The courier provides same-day delivery successfully for over 1,500 clients, including Fortune 500 companies throughout the Georgia area.