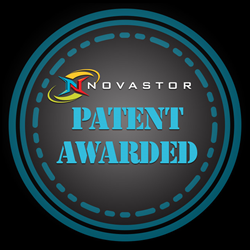 Being awarded this patent is a strong validation of our company's strong history and culture of innovation
(PRWEB) January 15, 2015
NovaStor, an international provider of award-winning backup solutions, recently announced being awarded a patent on December 2nd, 2014 - (Patent Number: US 8.903,773 B2). The patented technology currently resides, in part, within NovaStor's Small and Medium Business (SMB) product line and represents an intuitive and unique ability to efficiently restore previously protected information from various physical and cloud storage devices. Future product releases are positioned to expand this concept further incorporating a wider range of cloud, virtual and physical storage technologies.
U.S. Patent No. 8,903,773 B2 covers a unique retrieval system that allows for backups to be accessed as they appeared at a specific point in time from a single view using a time selection user interface connected to any single or multiple physical or cloud based storage devices no matter their location. This makes it convenient for the user to perform an efficient recovery of critical information stored in multiple known or unknown locations where data has been stored. A user selects to recover a version of data from a specific point in time and NovaStor's software solution will locate all relevant data that has been backed up, the way it was backed up at that specific point in time no matter which device or devices were housing the data.
Abstract from U.S. Patent No. 8,903,773 B2 - Computer file storage, backup, restore and retrieval is disclosed. A method includes providing a restore file interface allowing a user to restore a plurality of files based on a plurality of filter options, the files stored on multiple local and/or remote storage devices, computing devices, servers and clouds. A filter option selection is received from the user, and filter details may also be received from the user. An available file list may be prepared based on the filter option selection and, if received, the filter details. A user selection from the available file list may be received. The user selected files are retrieved from one or more appropriate storage devices, computing devices, servers and clouds. The method may be performed by software executing on a computing device.
A perfect use case for this patent could be a situation where a user may be attempting to recover their data or environment as it appeared at a specific point in time prior to a malicious Virus or Ransomware attack, similar to many recent events in which data has been held hostage by high profile programs like Crypto Locker.
Another use case example could be where the user is familiar with a file name, but not 100% certain where the file is located. As long as the file resides in the restore option's GUI, the user does not need to know which device or devices this data is stored upon as the patented application will still be able to retrieve this data.
"For well over a decade, NovaStor has constantly been on the forefront of bringing new capabilities to the data backup and recovery space with software that is powerful, easy-to-use and affordable. Being awarded this patent is a strong validation of our company's strong history and culture of innovation," said Mike Andrews, Managing Director at NovaStor. "NovaStor will continue in our efforts to file and be awarded additional patents as we continue to push the boundaries of data protection expectations."
About NovaStor
NovaStor® ( http://www.novastor.com ) is an international provider of powerful, affordable, all inclusive data-protection solutions for physical and virtual environments. NovaStor provides backup & restore solutions to Small and Medium Business (SMB) as well as Enterprise environments to protect data on Both Sides of the Cloud. NovaStor's SMB solution NovaBACKUP® is rated #1 for businesses requiring local and remote protection of Windows Servers, VMware, Hyper-V and NAS environments with advanced monitoring capability, detailed reporting, and administration from a Central Management Console. NovaStor's Enterprise solution NovaBACKUP DataCenter brings F500 references, scalability, reliability and speed to medium-large heterogeneous environments; a single pane of glass designed to reduce administrative effort and lower TCO. NovaStor' Setup Assistance is an industry first where experts relieve clients from the complexity of installation and support. NovaStor is management-owned with over 1,000 partners, and millions of seats distributed. With global headquarters located in Zug, Switzerland and offices in Germany (Hamburg) and the USA (Agoura Hills), NovaStor is also represented in numerous other countries through partnerships.