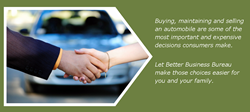 Consumers come to BBB for information on the three topics that most concern them - their personal finances, their homes and their vehicles.
Southfield, MI (PRWEB) January 15, 2015
Better Business Bureau (BBB) Serving Eastern Michigan receives millions of inquiries per year from consumers looking to connect with trusted businesses and searching for tips on how to avoid scams and bad businesses. Nearly every year, automotive businesses are in the top three most inquired categories. Therefore, BBB created the BBB Auto Resource Center in order to more easily deliver information consumers need to make good decisions about maintaining, buying, selling and insuring their vehicles.
"People come to BBB for information on and assistance with many topics but consistently, the three main reasons they consult with us revolve around their three most significant concerns – their personal finances, their homes and their automobiles," said Melanie Duquesnel, president and CEO of BBB Serving Eastern Michigan. "Traditionally we have offered many resources to address financial issues and to connect consumers with trusted home contractors, but we have not had a dedicated place where we could direct all auto related inquires. Seeing that Michigan is the home of the Motor City, we wanted to change that."
The BBB Auto Resource Center offers consumers automotive tips & advice and helps to quickly connect consumers to trusted businesses in the automotive field. On the site, you can find:

Later this year, BBB also plans to announce resource centers for Travel & Leisure, Weddings and Senior Services. You can find information on these and other topics and connect with trusted businesses at http://www.bbb.org/detroit.
About Better Business Bureau Serving Eastern Michigan and the Upper Peninsula
Better Business Bureau Serving Eastern Michigan and the Upper Peninsula is a non-profit organization with the purpose of promoting trust in the marketplace by assisting in the protection of consumers and businesses from fraud and unethical business practices. In addition to its recognized dispute resolution services, BBB maintains business reviews on the customer service history of more than 85,000 local businesses and provides consumer education materials on numerous topics. BBB provides its services free to the public and its service territory stretches across Eastern Michigan from Ann Arbor through Metropolitan Detroit, Lansing, Flint, upward to Alpena, and covers the entire Upper Peninsula of the state.