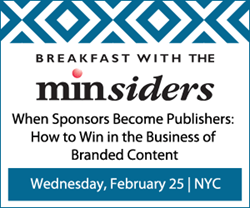 New York, NY (PRWEB) January 16, 2015
Specifically designed for media and publishing executives, min's next installment of its acclaimed Breakfast with the minsiders will hone in on how publishers and agencies are building sustainable content studios to work with brands and forging new kinds of advertiser partnerships that have different revenue models and clearly delineated divisions of labor. This timely segment, "When Sponsors Become Publishers: How to Win in the Business of Branded Content" will be held on February 25 from 8:30 - 10:00 a.m. at New York City's Yale Club and will feature a no-holds-barred discussion between industry experts from Condé Nast and DigitasLBi.
Content is the hottest form of advertising and has been more than a year. The momentum is increasing, not slowing down. As marketers move their budgets from traditional advertising into owned and earned media, both media companies and ad agencies are scrambling to recapture that revenue stream. Brands may aspire to be publishers, but even they acknowledge they can't do it alone. The question, then, is how traditional storytellers - magazine publishers - can become a bigger part of the branded-content creation in an era of corporate "newsrooms."
Speakers include:

Grant Jones, Executive Producer, Condé Nast
Anne-Marie Kline, Senior Vice President and Co-Lead, Social.Content / Managing Director, BrandLIVE, DigitasLBi
The Feb. 25 minsider speakers will discuss:

How sponsored content studios and newsrooms are being staffed and budgeted on both the publisher and agency sides.
How content-marketing projects are being packaged and priced to sustain the business.
The hottest new formats and models—from standbys like white papers to in-line native advertising.
How the proposal process works. Is this a "push" sell, where the seller comes up with ideas, or do the ideas come from agencies and clients?
Does content marketing complicate the relationship among client, agency and media company?
How branded content is being combined with paid media.
How traditional editorial staffs are being tapped to help.
Which distribution channels—from print to e-mail to social media—are being used, and why.
How ROI is being calculated for clients.
During the networking breakfast, attendees will learn the secrets of how services are being packaged and priced, and even integrated into other product lines as well as get specific models for proving ROI to clients. Content marketing is the rage, but at this exclusive min breakfast, it's all about the robust new businesses being built around the phenomenon.
For more information and to register for the February 25 Breakfast with the minsiders, visit http://www.minonline.com/minsider.
For registration questions regarding Breakfast with the minsiders, contact Allie DeNicuolo at allie(at)accessintel(dot)com. For sponsorship questions, contract Tania Babiuk at tbabiuk(at)accessintel(dot)com.
Breakfast with the minsiders is brought to you by min, the industry's trusted source on the consumer and b2b magazine business, reaching thousands of media executives through print, online and in-person events. For more than 60 years, min has been serving the magazine and media community will unparalleled coverage of this ever-changing industry. Visit min at http://www.minonline.com.
###