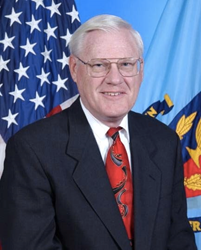 (PRWEB) January 15, 2015
The upcoming inaugural IDEX Conference, Defence Innovation and Technology Conference (DITEC), is pleased to announce Dr. Robert D. Childs as a guest speaker. Scheduled to take place on 25th and 26th February, DITEC 2015 is the first defence innovation and technology conference of its kind in the region. The IDEX conference will create an interactive platform for discussion centered on advanced R&D and technology, and how defence related innovation is shaping the future. With a large number of international, senior government and military officials, policymakers, and industry stakeholders in attendance, DITEC 2015 promises to be a unique event.
The conference is hosted by the Abu Dhabi Technology Development Committee (TDC) with the official support of the Ministry of Defence of the United Arab Emirates, and will be an integral part of the International Defense and Exhibition Conference (IDEX). Leading defence experts from all over the world will attend the conference to share their invaluable insights and experiences.
Prior to becoming President of iCLEAR, LLC (International Cyber Leadership Education and Resources) in 2014, Dr. Childs was the Chancellor of the National Defense University (NDU) iCollege. Under his leadership, the college became the international leader in providing graduate level certificates, educational services, and learning experiences in Information Assurance, Chief Information Officer, eGovernment, Chief Financial Officer, IT Project Management, and strategic leader competencies to government employees; and was designated as a "National Center of Academic Excellence (CAE) in Information Assurance Education." Dr. Childs remarked that, "I look forward to sharing my experiences and knowledge at DITEC 2015 as a senior leader in the cyber security and cyber leadership education sector for governments and militaries around the world. It is vital that governments that plan to build their cyber defense to also have an advanced R&D ecosystem that will allow for their cyber requirements to become tailored solutions much like the US has with DARPA."
As he confirmed Dr. Robert D. Childs to DITEC 2015 as a guest speaker, Faisal Al Hmoudi from Abu Dhabi Technology Development Committee said, "It is a great honor for us to have Dr. Childs as one of our valued speakers. A man of his stature and experience will be an asset for DITEC 2015 conference at IDEX this year."
TDC was established to encourage and support the development of Science, Technology, and Innovation (STI) in Abu Dhabi. It is a multi-stakeholder government body that interfaces between government, business, and academia to realize a sustainable, diversified, and knowledge-based economy.
TDC launched Takamul in 2011 to foster innovation and generate economic and societal value in Abu Dhabi and the UAE. The program supports innovation within knowledge-intensive industries, and aims to transform locally generated ideas into multipurpose activities that will seed economic advancement.
Co-located at IDEX, the DITEC 2015 Conference will take place on 25th and 26th February, 2015.
For more information, please visit the DITEC website at http://www.ditec.ae