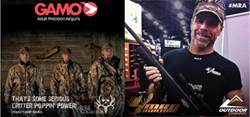 Fort Lauderdale, FL (PRWEB) January 16, 2015
Gamo® Outdoor USA (http://www.gamooutdoorusa.com), is pleased to announce their annual SHOT Show press event where will officially launch a number of new products and technologies.
The press event is scheduled to take place on Thursday January 22nd at 11 am at its booth number (#11053) located in the main exhibition hall.
The Spanish manufacturer will be unveiling new products and technologies under the Gamo® brand, including Gamo®, BSA Optics®, Laser Genetics®, BSA Guns®, Joker Knives®, and will premiere Gamo Youth Action Airguns ™ brand.
Gamo® Outdoor USA exciting lineup of outdoor celebrities will be at the press event announcing the new products and technologies, including Shawn Michaels & Keith Mark (MRA Hunting), Jackie Bushman (Buckmasters), Michael Waddell, Travis "T-Bone" Turner, Nick Mundt (Bone Collector), Doug Koenig (Doug Koenig's Championship Season), Keith Warren (The High Road) and newcomer to the Pro Staff lineup, Theresa Vail (Limitless).
SHOT Show attendees can meet some of the biggest outdoor celebrities and have their autographs signed on two different events (posters provided) at Gamo ® Booth (#11053)
WEDNESDAY, JANUARY 21st
11:45 am - 12:30 pm: Cast of BONE COLLECTOR TV SHOW (Michael Waddell, Nick Mundt and Travis T-Bone Turner)
Bone Collector TV Show premiered in 2009, and promised to reinvent the outdoor television genre and they did. Bone Collector is the culture of the hunter; the brotherhood of sportsmen that have true passion for the game, the land, and the lifestyle. With world-class production and marketing teams behind it, Bone Collector brings a fresh, honest and youthful approach to America's Leader in Outdoor TV. -
WEDNESDAY, JANUARY 21st
4:00pm-4:45pm : Cast of SHAWN MICHAELS MRA HUNTING TV SHOW (Shawn Michaels and Keith Mark)
Shawn Michaels' MacMillan River Adventure showcases the extraordinary talents of WWE Legend and Hall of Famer Shawn Michaels.
Shawn will join his good friend and longtime show host Keith Mark, owner and operator of the original MacMillan River Adventures camp in Yukon, Canada, as they hunt their way across the globe for the largest big-game animals in some of the most exciting settings ever filmed.
For press inquiries, please email Fedor Palacios, Marketing Communications Manager (fpalacios(at)gamousa(dot)com)
For more information, visit
http://www.gamousa.com
Facebook.com/GamoOutdoorUSA
Twitter.com/GamoOutdoor
YouTube.com/GamoOutdoor