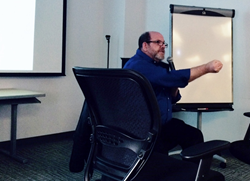 "PACT is a regulation game. We're always watching where partners are in terms of arousal states and how they are managing based on facial and body language cues," Tatkin explained.
New York, NY (PRWEB) January 16, 2015
The PACT Institute founder, Stan Tatkin, PsyD, MFT, led an introductory workshop on January 10 to a sold-out room of 55 therapists, counselors and licensed professionals at Birch Family Services. Tatkin guided them through a comprehensive interactive presentation to the PACT Institute's innovative form of couple therapy.
The PACT Institute has earned a stellar reputation for its ability to help the most challenging relationships quickly and effectively. The success of this technique is rooted in more than 30 years of research in developmental neurobiology, arousal regulation and attachment theory. PACT teaches couples how to manage relationship low-points and avoid unnecessary conflict. It teaches couples how to better understand their partners' attachment styles to build strong, secure-functioning relationships that can stand the test of inevitable ups and downs.
"PACT is a regulation game. We're always watching where partners are in terms of arousal states and how they are managing based on facial and body language cues," Tatkin explained.
Tatkin fielded questions with examples and demos and provided videos of couples to walk the audience through how to read micro-expressions and micro-movements (closely examining changes of expression in the face, eyes, voice, body, posture, movement and words). Tatkin left time at the end for a therapist to act out a troubling case she was dealing with in couple therapy through role-play.
"PACT is like dropping a rock in the water. The splash is a very small part of the intervention. We're mostly interested in the waves that follow the splash to see who the partners really are when they are outside the therapist's office," explained Tatkin. "We get closer to the truth by tracking what people do rather than what they say."
Tatkin explained that PACT's treatment goals for arousal regulation are for partners to rely on interactive regulation to amplify the positives and attenuate the negatives; to get into and out of conflict without fear of mutual dysregulation (or disconnection); to limit the use of threatening behaviors; to read each other's implicit behaviors; to shift each other's state of arousal and to repair quickly and effectively.
Tatkin, an assistant clinical professor at the UCLA David Geffen School of Medicine, has written several well received books on the topic of couples therapy including "Your Brain on Love," "Love and War in Intimate Relationships" and "Wired for Love: How Understanding Your Partner's Brain and Attachment Style Can Help Defuse Conflict and Build a Secure Relationship."
Tatkin and his wife Tracey Boldemann-Tatkin, who co-founded the PACT Institute, have trained more than 1,000 therapists and counselors to date. Together, they travel across the United States and internationally to countries such as Spain, Turkey and Australia, training therapists in PACT couple therapy methodologies. PACT trainings are offered at two levels with a beginner's Level I and an advanced Level II.
PACT training sessions are scheduled well into 2015 and are filling up quickly. The next PACT workshops include an Intro to PACT day-long session in Denver, CO (Friday, Jan. 30), a Level I course in Los Angeles, CA (Friday through Sunday, Feb. 6-8), and a Level I course at the Radisson Hotel in New Rochelle, New York (Friday through Sunday, Feb. 13-15). See the full list of events and registration information here.
About the PACT Institute
PACT (Psychobiological Approach to Couple Therapy) is a fusion of developmental neuroscience, attachment theory and arousal regulation. PACT, which was founded by Stan Tatkin, PsyD, MFT, provides a cutting edge, highly effective approach to couple therapy that is quickly gaining a reputation for treating even the most challenging relationships. PACT strives to positively influence the growth of secure-functioning relationships globally and to reinvigorate the couple therapy profession with a multilevel approach to therapy, which is enjoyable for therapists to learn and fun to practice.
Tatkin is affiliated with the UCLA David Geffen School of Medicine's Department of Family Medicine and has a private practice in Calabasas, CA. He and his wife Tracey Boldemann-Tatkin founded the PACT Institute together – through which they lead therapist training programs in major cities across the United States and around the world.