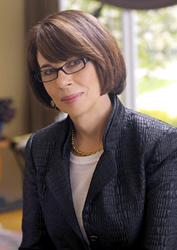 Just in time for her debut at the Las Vegas Market, Mary Jurek introduces a new plated finish on some of her most popular stainless steel tabletop designs.
Torrance, California (PRWEB) January 16, 2015
Internationally-recognized stainless steel tabletop brand Mary Jurek Design launches a new showroom at Las Vegas Market next week. Jurek launches new designs at the show that runs from January 18 to January 22, 2015.
The opening of the Mary Jurek Design showroom located at C 156 coincides with the debut of C5, the Market's newest resource for high-end home décor, home textiles, and accessories. Launching six months earlier than originally scheduled, the premiere of a transformed C5 will debut as a hybrid presentation of permanent showrooms and temporary exhibits.
Since 1998, Mary Jurek Design has earned a reputation as the luxury stainless steel tableware of choice for discerning hosts and as the go-to for statement-making holiday, wedding and special occasion gifts. Inspired by the vision of the company's founder award-winning jewelry and watch designer Mary Jurek, each piece of tableware is created from the 'King of Metals,' high-quality 18/8 stainless steel then hand-hammered into organic designs—a happy marriage of silvery smooth surfaces and sophisticated shapes and all dishwasher safe.
Just in time for her debut at the Las Vegas Market, Jurek introduces a new plated finish on some of her most popular products. The Arroyo interlocking bowls boast Jurek's newest treatment on her classic stainless steel design. The artist plates the exterior with black nickel, copper and brass to achieve the deep, rich colors. The interior remains food safe stainless steel for multi-use art. Plated pieces should be hand washed, but the rest of the Mary Jurek Design stainless steel collection is dishwasher safe—a distinct selling point for happy customers. Other new products can be seen at http://www.MaryJurekDesign.com.
Describing her work as a union of legacy silver designs and ancient metal crafting techniques, Mary has dedicated her artistry to creating eclectic, sustainable home goods with price points to match any budget. Her high quality stainless steel designs are award-winning: she has won the 2014 Award for Design Excellence for multiple products and is a finalist for the 2014 26th Annual Arts Award for tabletop design.
Perfect for wedding and gifts, Mary Jurek Design's varied and numerous tableware collections boast something for everyone; from candlesticks to serving trays to barware, each piece stands alone as a stunning focal point yet plays well with others.
"There are few brides who don't put a Mary Jurek design on their wedding registry – they love that these gorgeously designed stainless steel pieces are dishwasher safe, timeless and unique," says Lisa Miller, purchasing agent, Material Possessions in Chicago. "Mary Jurek stainless steel tableware are some of our most popular pieces and suitable for any home."
Las Vegas Market is a leading furniture, home décor and gift marketplace presenting more than 2,200 resources in an unrivaled market destination. Las Vegas Market features thousands of furniture, home décor and gift lines, allowing for cross-category commerce among these industries. The Winter 2015 Las Vegas Market runs January 18-22, 2014, at World Market Center Las Vegas.
"Our specialty tabletop category is growing and with the addition of designers like Mary Jurek, the Winter 2015 show is the best representation yet," said Dorothy Belshaw, president of Gift & Home Décor, International Market Centers. "Mary Jurek's award-winning stainless steel tabletop, home décor and accessories augment the market's range of better resources in the tabletop category."
The Mary Jurek Design Showroom opens at Las Vegas Market @ World Market Center Las Vegas, 455 South Grand Central Parkway, Building C – Suite C 156, Las Vegas, NV 98106.
To see Mary Jurek Design collections in person, check her extensive list of retailers.
About Mary Jurek Design
Mary Jurek Design, Inc. is a Los Angeles-based luxury goods company that creates and distributes fine stainless steel tableware and home décor products to retail stores throughout the United States, Canada, Mexico, Middle East, UK and the Caribbean. Founded by award-winning jewelry and watch artisan, Mary Jurek, the company juxtaposes hand-hammered stainless steel with a soft, organic flare to create an 'old world meets modern day' style that appeals to luxury lifestyle enthusiasts everywhere. For more, visit http://www.MaryJurekDesign.com.