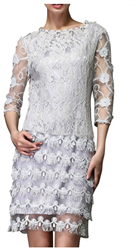 Fecbek's Dance With Spring Colors rounds up the essential tones to match with other clothing.
(PRWEB) January 18, 2015
On Valentine's Day, many girls are puzzled about what color they should wear. Lucky for fans of color, affordable worldwide retailer Fecbek has recently launched the collection Dance With Spring Colors, a presentation of dresses in spring colors. This collection offers colorful dresses and shoppers can feel its vitality and freshness. All of the items are available for the low prices that Fecbek is best known for.
Color-matching is a profound subject. "If you are a freshman, you can certainly learn how to match basic colors. Red embodies vigor, health, enthusiasm and happiness. The colors of red, white and black are perfect matches. Blue embodies beauty and rationality. Either navy blue or acid blue can come off as a graceful color. It is another classic color which fits in well with any color. Pink embodies youth and romance. Women who wear pink often display a uniquely feminine touch as well as noble disposition. If they couple the pink with the white, they can look either demure and cute," the colorist of the website says.
Besides, Fecbek's Dance With Spring Colors rounds up the essential tones to match. For example, black can match every color well. It is the best choice when one chooses a sheath dress to show off curves. Fecbek's collection of basics also features black, white and grey, which are all essential colors for any wardrobe.
"Coloring is one of the most difficult things to do. No more than three colors are suitable," the designer says. The company deeply understands the importance of color-matching. Both color coordination and newest styles are the best matches, they say. Fecbek provides customers with many simplistic colors for the perfect matches. To find out more, please visit http://topics.fecbek.com/valentine%27s-day-promotion-dresses.html.
About Feckbek.com
Feecbek.com is a leading online retail and wholesale store specializing in selling clothing, shoes, bags, wedding and occasion dresses, cosplay, costumes and beauty products. With a wide selection of products at a low price, the company has been universally recognized for honesty, high efficiency and thoughtful services; it has built a long-term relationship with many customers.
For more information, please visit http://www.fecbek.com/.