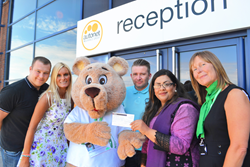 We will be eternally grateful to Autonet for their overwhelming generosity
(PRWEB UK) 16 January 2015
Autonet's charity committee was set up in 2010 and since then has raised a huge £85,000. Events organised by the charity committee have seen members of Senior Management undertake the ice bucket challenge for Douglas MacMillan and make-up selfies for cancer research!
The whole of the business has been involved in seasonal events such as Halloween fancy dress and taking part in Christmas Jumper day on the 12th December. They also held their own sporting activities to celebrate the World Cup, raising money in the process.
Ian Donaldson, managing Director of Autonet Insurance said, "We are incredibly proud of all of our dedicated staff who donated their time and money for such worthy causes. Again we smashed our £20,000 target for all the charities, each of which had a personal link for a member of our team. We encourage local groups and charities to contact us if they feel they would benefit from funding or even advice to help them with raising awareness of their charities and fundraising events. Our charity committee continues to show how passionate we are to giving something back to the local community."
Charities that have benefitted from the staff events include Douglas McMillan, Shelter, Help for Heroes and FreeSpirits Day care. In 2014 we nominated the local charity FreeSpirits for the LV Big Heart Charity Giveaway who were gifted with a £500 donation.
Peter Lockett, Day care Manager for FreeSpirits said, "FreeSpirits would like to thank Autonet once again for their continued support and fantastic donations. We have a saying that we enhance the lives of young adults with special needs. Believe us when I say its thanks to companies and people like all at Autonet that make that statement come true. Thank you once again for your great donations and helping our dreams come true."
Linda Hamnett, Centre Manager for Whitfield Valley said, "Altogether over the past three years since the charity initially contacted Autonet they have kindly donated £2,066.00 all of which has gone towards projects which have enriched the lives of the people of Fegg Hayes and the surrounding areas. We will be eternally grateful to Autonet for their overwhelming generosity and hope that we can continue to work in partnership bringing activity, health and learning to the community."
The committee and members of the board are already making progress with plans for 2015 and are extremely close to hitting the £100,000 total that will exceed all expectations.