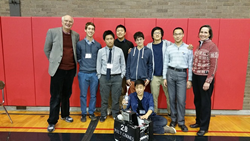 "This group, especially the seniors, is highly motivated and tirelessly dedicated. The design is exceedingly innovative and versatile." --James Madsen, team coach
Chestnut Ridge, NY (PRWEB) January 16, 2015
The Green Meadow Waldorf School robotics club, aptly named the PolyGnomes, won the FIRST Tech Challenge Mid-Hudson Tournament on Saturday, January 10 at Kennedy Catholic High School in Somers, NY. In this year's game, Cascade Effect, students designed and operated a robot that placed plastic balls in various goals on a playing field in a complex game. This season, the PolyGnomes were the only team to go undefeated with a 9-0 record. They also achieved the honors of #1 seed, Captain of the Winning Alliance, and won 3rd place for outstanding robotic design out of 22 teams.
The Green Meadow PolyGnomes were led to victory by students Danny Chang, Brian Frei, Chester Lee, Takama Saeki, and James Yang. The team is coached by Physics and Math teachers James Madsen and Lisa Krogh. According to Mr. Madsen, "Even though our robot was only about 80% healthy on Saturday with some control issues, the team compensated with brilliant strategy, outstanding driving, and a versatile engineering design that was able to do secondary tasks in addition to its primary goals. This group, especially the seniors, is highly motivated and tirelessly dedicated. The design is exceedingly innovative and versatile."
The team's next tournament will be on January 25 in Yonkers then they will move on to play in the Empire Division Regional Tournament at Pace University on February 8.
###