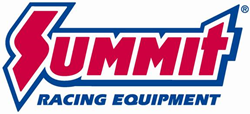 Tallmadge, OH (PRWEB) January 19, 2015
PitBull Rocker Xtreme Off-Road (SOR) Tires have a lot of the same qualities as the dog they're named after. They offer tenacious grip on virtually any type of terrain, provide reliable performance no matter what the weather or driving conditions, and have a no-nonsense appearance that makes any truck look tough.
The XOR Tires feature PitBull's Tear It Up™ technology, a combination of construction and rubber compound that makes the tires extremely cut, puncture, and heat resistant. Fang® technology wraps the tread lugs down the tire sidewall to strengthen the shoulder and sidewall areas. Other features include sidewall protectors and rim guards to protect tire and rim from damage.
Summit Racing carries two versions of the Rocker XOR:
The Rocker XOR LT Bias is bias-ply design made specifically for rock crawling and extreme off-road applications. Strategically placed sipes and stepped lugs provide maximum traction, and deep lugs mean excellent tread cleanout. They won't win the quietest tire of the year award, but the tires are easier to live with on the highway compared to other tires of its type.
The Rocker XOR LT Radials offer virtually the same features and grip as the XOR LT Bias tires, but have a slightly less aggressive tread design and radial construction that makes them more highway-friendly. The tires have high load ratings to handle towing and hauling duties—perfect for work trucks.
Summit Racing also carries PitBull's Growler XOR series tires for ATVs and UTVs. They're made with the same Tear It Up construction and Fang wrapped lug design as the Rocker truck tires for excellent traction on whatever terrain you happen to ride on.
See PitBull Rocker and Growler XOR Tires at Summit Racing
Summit Racing Equipment
http://www.SummitRacing.com
1-800-230-3030