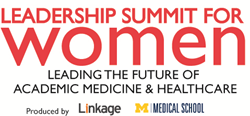 These women are pioneers in their fields, and leaders worthy of the attention of women and men from all professions
Burlington, MA (PRWEB) January 20, 2015
Linkage is proud to announce that renowned journalist Soledad O'Brien, Harvard Medical School Professor and Executive Director of Connors Center for Women's Health & Gender Biology at Brigham and Women's Hospital, Dr. Paula Johnson, and Harvard Business School Sociologist and Professor, Dr. Amy Cuddy will present at the Leadership Summit for Women: Leading the Future of Healthcare and Academic Medicine, March 30 in Ann Arbor, MI. Hosted by the University of Michigan Medical School, and the global leadership development firm, Linkage, the Summit is for women in academic medicine and healthcare to come together for inspiration, connection, and leadership development.
"As we looked at individuals to contribute their stories and voices to this inaugural event, Dr. Johnson and Dr. Cuddy were our dream team," says Susan Brady, Executive Vice President of Linkage's Advancing Women and Inclusion Practice and co-chair of this year's Summit. "Representing the practice and academic sides of medicine and healthcare, they are inspiring."
"Creator of CNN's renowned Black in America and Latino in America, Soledad O'Brien's message motivates and empowers others to look beyond what is accepted, to achieve what is possible," adds Ms. Brady. "She is a pioneer in her field, and a leader worthy of the attention of women and men from all professions."
Perfect for women in mid-management or higher roles,Linkage's Leadership Summit for Women: Leading the Future of Healthcare and Academic Medicine is a one-day leadership development program that accelerates high-potential women leaders with the skills and knowledge they—and their organizations—need to succeed. Over 400 women leaders are expected to attend this year's inaugural event for a day of networking, powerful keynotes, and skill-building sessions. Learn more at http://www.linkageinc.com/medicalsummit.
Linkage works with leaders and leadership teams worldwide to build organizations that produce superior results. For over 25 years, we have delivered on this promise by strategically aligning leadership, talent, and culture within organizations globally. We do this by providing strategic consulting on leadership development and talent management topics and through our learning institutes, skill-building workshops, tailored assessment services, and executive coaching.