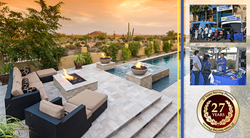 Jeremy Smith, Owner of California Pools & Landscape said, "There has never been a more affordable time plan your dream yard. The Expo will feature exclusive product discounts for all Expo attendees."
Chandler, Arizona (PRWEB) January 21, 2015
Catering to Arizona's massive outdoor living market, the Expo will be held January 24th, from 10am-4pm
The 2nd annual Outdoor Living Expo will be held this coming weekend, January 24th, from 10am-4pm. The Expo will be hosted by California Pools & Landscape, a leader in Arizona's pool and landscape building market, and this year's 2014 Ethics Award winner by the Better Business Bureau.
The Expo is scheduled to feature over 30 exhibitors and the latest in pool design, spas, landscaping, and outdoor living products. There will be design experts on staff to consult with attendees on planning, designing, or remodeling their backyards. Lenders will also be on site to discuss loan programs regarding pools, spas and outdoor living environments.
The Outdoor Living Expo offers free admission/parking, and the event will have prize raffles and giveaways. Exhibits will showcase water features, stone, decking, paving, artificial grass and putting green displays. The latest in gazebos, outdoor structures, outdoor kitchens and barbecues will also be on hand.
Event Details
Open to the general public, a free Outdoor Living Expo
January 24th, from 10am-4pm
4320 W. Chandler Blvd, Chandler, AZ 85226
More Expo information is available at http://www.calpool.com
Media
For more information the media can contact the event organizer direct at:
480-756-7085
nshoppach(at)calpool(dot)com