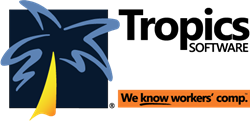 We needed a vendor and a partner who could bring us modern technology along with in-depth workers' compensation knowledge and experience to comprehend and automate our complex reinsurance requirements
Sarasota, FL (PRWEB) January 21, 2015
WCRA is the development partner and the first production client on Tropics' newly released version of its web-based Breeze Excess Carrier system. It provides highly efficient and detailed workers' compensation reinsurance transaction processing and reporting capabilities. Additionally, account level billing was added to the core billing module giving carriers more flexibility when it comes to billing preferences across policy years or groups of policies. Tropics Breeze Excess Carrier Edition also offers integrated advanced features for email messaging, business rules, workflow, and document automation.
WCRA is the exclusive workers' compensation reinsurance provider for insurers and self-insurers in the state of Minnesota. Tropics' modern .NET and web-based Breeze system now fully integrates with WCRA's website functions to maintain a familiar environment for their members to report claims and exposure data through the existing online portals. Tropics Breeze Excess Carrier Edition will enable WCRA to enhance member services and provide greater processing efficiencies.
"We needed a vendor and a partner who could bring us modern technology along with in-depth workers' compensation knowledge and experience to comprehend and automate our complex reinsurance requirements," said James Heer, president and CEO of WCRA. He added, "We selected Tropics as that partner and successfully leveraged the strengths and expertise of both firms to add features and modify the Breeze system for use by an excess carrier. WCRA and Tropics ensured the success of the project by placing a high level of commitment into it and increasing the efforts as we got close to the go live date. We look forward to an ongoing partnership with Tropics."
"We are very excited to see the Excess Carrier Edition of the Tropics product in production. We also extend our gratitude to the WCRA staff for being a great partner and for bringing in and sharing the reinsurance expertise with us. We view this only as a beginning of a long term and mutually beneficial relationship with WCRA," said Mike Mobar, president and CEO of Tropics Software Technologies.
About Tropics Software Technologies:
Tropics Software Technologies is a national software company specializing in workers' compensation systems. They provide integrated, web-enabled policy, claims, and billing systems. Tropics offers a comprehensive set of configurable modules, based on a common foundation of automated work and document management, which boosts business efficiency.
For additional information, please contact Carol Gutiérrez at (888) 925-1234 #4338, by email at carol.gutierrez(at)gotropics(dot)com or visit our website at http://www.gotropics.com.
About WCRA:
The WCRA is a nonprofit organization that reinsures all workers' compensation insurers and self-insured employers in Minnesota. The WCRA assures financial security for Minnesota's employers and their most seriously injured workers by providing cost-effective reinsurance coverage and quality services. For more information, visit WCRA's website at http://www.wcra.biz.