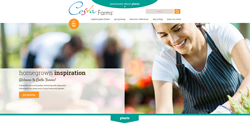 Visitors can search the new Plant Finder intuitively by plant type, light needs, color, personality and even plant perks.
Miami, FL (PRWEB) January 21, 2015
Costa Farms is improving its efforts to inspire and educate consumers while pushing horticultural digital marketing forward with the re-design of its website.
The re-launch features a fresh, contemporary design and improved navigation. An innovative plant finder gives gardeners of all levels fast and easy access to all the plant information they need.
The visually stunning and easy-to-navigate CostaFarms.com is live with beautiful images and the latest interactive tools and technology.
Jose Smith, president and CEO of Costa Farms, says the goal of the site is to empower consumers to have more confidence, more success and more fun growing plants.
"The Plant Finder is the perfect tool to educate, inspire, and elevate our consumers when it comes to gardening," says Smith. "A team of horticultural experts rebuilt it from scratch. We've updated the information and images with the most current data."
Visitors can search the new Plant Finder intuitively by plant type, light needs, color, personality and even plant perks. Once a consumer finds the plant they're looking for, they discover all the information they need, including tips on how to take care of it, DIY videos and suggested complementary plants.
All users on any mobile device -- including smartphones and tablets -- will have a stellar experience because of the website's use of responsive design. Costa Farms has seen more than 100 percent growth in mobile traffic and optimizes the experience for every user.
New Tools for Gardeners!
"Gardeners come to our website for advice; we want them to find it as easily and quickly as possible," says Smith. "To give them the help they want, we've added a new blog, tip of the day, and a better Plant Finder."
The new blog, Dig In, is filled with advice on what to do with plants, how-to projects and common plant problem solutions -- plus gives consumers a behind-the-scenes look at the Costa Farms operation.
Visitors will be delighted to see a new Tip of the Day on the site featuring insightful information on annuals, perennials, blooming tropicals and houseplants.
The new Discover Collections section shows off key information about each of Costa Farms' brands, such as O2 for You, Exotic Angel and Plants of Steel.
To learn more about Costa Farms' houseplants, bedding plants and perennials, visit the new website.
About Costa Farms:
Costa Farms is the largest producer of indoor house plants in the world. Founded in 1961 by Jose Costa, Costa Farms is a third-generation, family-owned business that globally stretches over 4,200 acres and employs approximately 3,400 people. Along with thriving indoor houseplant, annual, and perennial plant divisions, Costa Farms operates merchandising and transportation companies as part of its infrastructure, with operations domestically in Florida, North Carolina, and South Carolina, and abroad in the Dominican Republic and Far East.