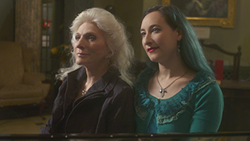 New York, NY (PRWEB) January 21, 2015
"...a sublime take on Neil Young's "Helpless"...an absolutely beautiful example of how two tremendous voices can blend in perfect harmony and further proof that Sage is easily the match for any master, either past or present." - BLURT MAGAZINE
The Wall Street Journal premieres a new duet as well as a video interview featuring singer/songwriter Rachael Sage and folk icon Judy Collins sitting down in New York City's beautiful Steinway Hall to discuss their collaboration on Neil Young's "Helpless", which appears on Sage's new critically acclaimed album "Blue Roses" (MPress) and Collins' latest collection "Both Sides Now: The Very Best of Judy Collins" (Cleopatra). Shot by award-winning director Nick Clark, the interview was filmed the day before the historic Steinway Hall, founded in 1866, finally closed its doors.
Listen to the duet in the Wall Street Journal's streaming player and download it on iTunes. Watch the clip here on YouTube.
Sage has shared the stage with Collins on tour in both the US and UK for several years. Collins has said of her, "Rachael Sage is a marvelous young artist and I am a fan!!"
Sage first performed her reimagining of "Helpless" during a concert tribute to The Band's "The Last Waltz" at the Highline Ballroom in NYC, and later recorded it as a duet with Collins at the prestigious Avatar Studios for her latest album "Blue Roses". Collins was so impressed with the final outcome that she included it on her latest "Best Of" collection.
On February 10th, Sage will also release her first compilation, "Dance Competition Collection Vol 1" following a record year of 10 song placements and an appearance on Lifetime TV's #1 reality series, "Dance Moms". These songs are her most popular lyrical dance tracks to date and have also been used for innumerable winning routines by dance companies across the U.S. - as viewed via millions on YouTube. A former ballet dancer who studied at The School Of American Ballet, Sage is pleased to present all 10 songs that appeared on "Dance Moms Season 4", available on iTunes in February.
Sage is scheduled to perform a special Valentine's themed show at NYC's Joe's Pub on Tuesday, February 10th at 7pm; this concert will also double as an album launch for her "Dance Competition" Compilation. Tickets are available now.
RACHAEL SAGE AND THE SEQUINS – VALENTINE'S DAY SHOW
Where:
Joe's Pub | http://www.joespub.com/
425 Lafayette Street
New York, NY | (212) 967-7555
By Subway:
6 to Astor Place and Lafayette Street/4th Avenue
N/R/W to 8th Street/NYU at Broadway
When:
Tuesday, February 10, 2015, 7:00 PM
Tickets: $14 Buy Online
Special guests: Andy Mac, Ward Williams & more!
To set an interview in advance of Sage's Joe's Pub concert, or for other materials tied to the Valentine's Day show, contact SethCohenPR(at)earthlink(dot)net, or MPress Records: melanie(at)mpressrecords(dot)com.
RACHAEL SAGE ON TOUR
Feb 6: Binghamton, NY; Bundy Museum
Feb 10: New York, NY; Joe's Pub
Feb 12: New Haven, CT; Cafe 9 (w/ Navi Singh)
Feb 15: Portland, OR; Aladdin Theater (w/ Judy Collins)
Feb 16: Seattle, WA; Neptune Theatre (w/ Judy Collins)
Feb 18-22: Kansas City, MO; Folk Alliance International Conference
Mar 20: Austin, TX; MPressFest SXSW 2015 @Soho Lounge
Apr 10: Northampton, MA; Iron Horse Music Hall (w/ Seth Glier)
Apr 12: Alexandria, VA; The Birchmere (w/ Shawn Colvin)