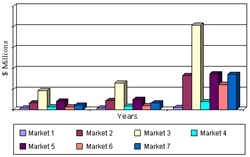 Global Market for 3D Cell Cultures to Reach $2.2 Billion in 2019
Wellesley, Mass. (PRWEB) January 21, 2015
BCC Research (http://www.bccresearch.com) reveals in its new report, 3D Cell Cultures: Technologies and Global Markets; the global three-dimensional (3D) cell culture market is expected to grow to $2.2 billion by 2019, with a five-year compound annual growth rate (CAGR) of 30.1%.
Significant growth within the biopharmaceuticals industry is spurring unprecedented innovation and demand for cell culture products for the purposes of drug discovery and safety testing. While 2D cell cultures have been in laboratory use since the 1950s, the market for 3D cultures, which more accurately model human tissue in vivo without utilizing animal test subjects, has witnessed spectacular growth over the past decade. Indeed, this market is poised to experience explosive growth within the forecast period, as well as create fertile ground for consolidations, mergers, and acquisitions for many types and sizes of companies.
Fueled by toxicity testing and increased biopharmaceutical production, the assay kits category is the fastest moving segment of the overall market, moving at a tremendous 42% CAGR. Demand in this area is driven by the fact that assay kits contain all the necessary reagents and specific protocols packaged for laboratory use.
With 57% market share in 2013, the cells and tissues category is the largest segment of the overall 3D cultures market. This segment, which includes reagents, media and sera, is predicted to reach $1.15 billion in 2019 and register a significant 27.5% CAGR.
Meanwhile, the 3D technologies segment, which includes gels, scaffolds, bioreactors, hanging droplet platforms for spheroid growth and microchips often used to create so-called "homebrew" assay kits, is anticipated to register a healthy 27.8% CAGR.
"Growth in this industry will be driven by rising R&D spending for products such as antibodies and vaccines, soaring biopharmaceutical production, and increasing instances of cancer and liver-related issues," said BCC Research biotechnology analyst Robert Hunter. "Indeed, these rising rates combined with improved access to consumer healthcare in the United States as well as in emerging markets such as China and India, are expected to spur exceptional growth in the 3D cell cultures market for the foreseeable future."
Mr. Hunter will present a free webcast, 3D Cell Culture Market Accelerates into Hyper-drive, on January 28 at 12:00 p.m., U.S. Eastern time to discuss this exciting market. Click here to register.
3D Cell Cultures: Technologies and Global Markets provides an overview of the global market for 3D cell culture and related technologies. It includes analyses of global market trends, with data from 2013 and 2014, and projections through 2019.
Editors and reporters who wish to speak with the analyst should contact Steven Cumming at steven.cumming(at)bccresearch(dot)com.
About BCC Research
BCC Research publishes market research reports that make organizations worldwide more profitable with intelligence that drives smart business decisions. These reports cover today's major industrial and technology sectors, including emerging markets. For more than 40 years we've helped customers identify new market opportunities with accurate and reliable data and insight, including market sizing, forecasting, industry overviews, and identification of significant trends and key market participants. We partner with analysts who are experts in specific areas of industry and technology, providing unbiased measurements and assessments of global markets. Recently selected as the world's greatest market research company, BCC Research is a unit of Eli Global, LLC. Visit our website at http://www.bccresearch.com. Contact us: (+1) 781-489-7301 (U.S. Eastern Time), or email information(at)bccresearch(dot)com.