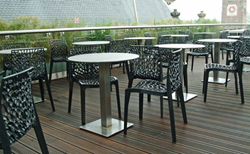 (PRWEB) January 21, 2015
BambooIndustry.com is a famous bamboo decking factory, and it has bamboo flooring products for customers worldwide. Today, the company announces its exterior bamboo decking collection, and launches a special offer on these new products and designs for the customers worldwide. Moreover, custom services are offered as well.
Many bamboo designers know that every few months the trends for bamboo flooring shift and the bamboo product market changes, so they can always design what the customers need.
Here are some details about the items:

Superior density and hardness compared with other hardwood decking, like Teak, IPE, Balau and Oak.
BambooIndustry.com offers the strongest, most durable and beautiful bamboo decking and other bamboo products on the market.
Naturally very strong and resistant to warping, splitting, rot, mold and mildew.
Easy to maintain and install with our hidden fastener system.
Help prevent global warming and climate change.
"All the bamboo products are suitable for exterior applications.
They are produced using vertical and horizontal laminated methods of construction, with phenolic resin, non-toxic and waterproof glues. We offer custom bamboo flooring designs for our clients, and our products are specially designed for the global market." The CEO of the company says.
About BambooIndustry.com
Certified by both ISO9001:2008 and ISO14001:2004, BambooIndustry.com has 8 years of experience in the manufacturing and wholesale of bamboo flooring products. The company strives to bring its customers the latest styles and innovations of bamboo flooring, bamboo paneling, bamboo plywoods, bamboo furnitures, and other bamboo products.
More information about BambooIndustry.com and its bamboo flooring products can be found at http://www.bambooindustry.com/products/bamboo-flooring/bamboo-decking.html