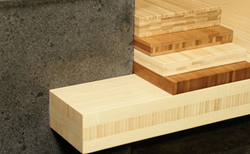 (PRWEB) January 22, 2015
BambooFlooringChina.com is a famous company offering a wide range of bamboo flooring products. Today, the company announces its new collection of bamboo mats, and launched a special offer on all its bamboo products.
According to the CEO, the new bamboo mats comes with a wide range of styles and colors. Bamboo flooring is a high quality hardwood flooring alternative. BambooFlooringChina.com encourages customers to take advantage of its free sample service before placing an order.
A bamboo flooring distributor from the UK says, "BambooFlooringChina.com is a reliable business partner, and we have cooperated for over 5 years. I will definitely be recommending your company as a great one for bamboo flooring, with good customer service. I am sure we shall be returning to your company in the future!"
The sales manager of the company says. "BammbooIndustry.com has an extensive range of bamboo floor designs, colors and sizes along with accessories such as stair nosings and skirting boards. All models are offered to you at extremely competitive prices. We devote extraordinary endeavor toward expanding our bamboo product sales. Now, 20% of customers provide 80% of our profits and cash. Customers can also contact us if their desired products or designs are not available on our website."
About BambooFlooringChina.com
BambooFlooringChina.com has been making high quality bamboo products for many years. It is selling a huge selection of elegant items for the international customers: strand woven floorings, lumbers, outdoor deckings, plywoods, fences and so on. The company always strives to benefit all its old and new clients; its top designers are working hard to make more durable items.
For more information about its new items, customers can visit http://www.bambooflooringchina.com/products/product-type-BambooMats.html