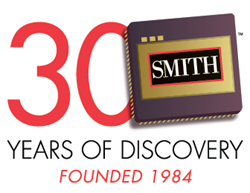 As we continue to grow, our highest commitment remains to our customers and meeting their needs at every level.
HOUSTON, TX (PRWEB) January 22, 2015
Smith & Associates, the largest independent distributor of electronic components, today announces its highest annual revenues since the company's founding in 1984. With the strength of its global reach and expansive quality and inventory service programs, Smith reached US$747 million in annual revenue for 2014.
This achievement comes on the heels of the company's May 2014 thirtieth anniversary celebration, when it looked back on its three decades of growth and innovative service. At one milestone anniversary event, Apple co-founder Steve Wozniak addressed Smith & Associates' employees, offering insight on the last three decades in the electronics industry and thoughts on its future. Smith has turned its own attention to the future and to continued innovation and expansion as the company moves into 2015 and builds off of 2014's successes.
2014 was a year of steady evolution for Smith as the company directed its strength and expertise toward new markets and areas of customer support. In 2014, Smith was yet again ranked the number one independent distributor by industry publication Global Purchasing. In addition, Smith developed its innovative Global Services division, which analyzes customer needs and engineers customized service programs to address their supply chain challenges. Smith also bolstered its Purchase Price Variance (PPV) program in order to continue identifying cost savings opportunities for customers.
"From our core sourcing support to the expansive programs we can develop for advanced supply chain management, we are able to empower customers in every facet and goal of their business," said Kirk Wehby, Chief Operating Officer at Smith.
Quality and customer service remained at the forefront of Smith's goals for the remainder of 2014, as the company expanded its Houston quality laboratory and operational facilities to a new, 57,258 square-foot location that will allow for incorporation of more advanced quality equipment and resources for customer support. Smith also relocated its Shanghai, Seoul, and Guadalajara sales offices in order to establish deeper penetration, broader reach, and more vigorous local support in these key markets.
"Our lasting relationships with our customers have been what has carried Smith through the decades since our founding," said Marc Barnhill, Smith's Chief Trading Officer. "They've been our main focus since 1984 and they are still our main focus today."
"As we continue to grow," Barnhill continued, "our highest commitment remains to our customers and meeting their needs at every level. We look forward to seeing how we can continue to rise to this challenge in 2015 and beyond."
About Smith & Associates
Founded in Houston in 1984, Smith & Associates is a leader in the independent distribution of semiconductors and electronic components to electronics and high-tech manufacturers. Smith offers shortage sourcing for commodity and obsolete parts, innovative purchasing and inventory management solutions, redistribution of excess inventory, and component stocking for warranty and repair programs.
A privately-held company, Smith & Associates employs more than 350 people worldwide, with annual revenue in excess of US $747 million. Smith's regional hubs in Houston, Hong Kong, and Amsterdam are ISO certified. In addition, sales and purchasing offices are located in Austin, Silicon Valley, Guadalajara, New York, Shanghai, Shenzhen, Seoul, Singapore, Taipei, and Penang. For more information, see http://www.smithweb.com/ or, to reach a Smith representative 24 hours a day, please call: 1.800.HOUSTON or +1 713.430.3000.
###
For more information, contact:
Mark Bollinger
Smith & Associates, V.P. of Marketing
+1 713.430.3000
mbollinger(at)nfsmith(dot)com