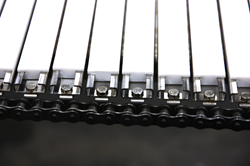 SLATrak significantly reduces waste by preventing sticking when food products are first submerged in oil. It leads to higher yield and output as well as uniform product quality and consistency." Larry Windsor, Cambridge Engineered Solutions
Cambridge, Maryland (PRWEB) January 22, 2015
Cambridge Engineered Solutions has rolled out SLATrak, a new Teflon®-slatted, non-stick surface conveyor belt designed for the par-fried process of lightly breaded food products such as chicken fingers and nuggets and panko and tempura-battered seafood, onion rings and other vegetables.
SLATrak is used to carry food products a few feet inside the fryer to allow the breading to fry and crust without sticking to the belt. It then transfers to a standard metal belt inside the same fryer to finish the frying process.
Cambridge will feature a working SLATrak belt for industry representatives to see at its exhibit booth at the International Production and Processing Expo (IPPE) in Atlanta January 27-29.
"We've had many customers come to us requesting a non-stick belt that prevents the loss of product that can occur when food is first dropped on a metal belt during the frying process," said Larry Windsor, Executive Director of Sales and Business Development for Cambridge Engineered Solutions. "SLATrak significantly reduces waste by preventing sticking when food products are first submerged in oil. It leads to higher yield and output as well as uniform product quality and consistency."
Cambridge is beginning to fill requests for SLATrak with poultry product processors and brand and private label refrigerated and frozen food processors.
SLATrak is available in industry standard widths and is suited for temperatures up to 500 degrees Fahrenheit. All materials are FDA-approved, according to Cambridge Engineer and Product Development Manager Tom Perdue.
"Because the plastic slats are used at high temperatures during the crisp-crust stage," Perdue said, "they do not harbor bacteria and create sanitation issues that can occur when non-metal (plastic) belts are used for food products at lower temperatures. That's why product is then transferred back to a metal belt to complete production and packaging."
SLATrak belts can run on processors' existing conveyors and do not require retrofits or changing of sprockets. The belts are fully assembled and delivered ready to be inserted on the unit, says Mike Price, Cambridge National Account Manager.
"We're one of the first to produce a Teflon-slatted belt, and we offer the industry's shortest lead time in North America because our belts are manufactured here and all parts are sourced domestically," he said.
At IPPE, Cambridge will also showcase new versions of its revolutionary DURAFLEX® Edge metal belt, first introduced to the industry at the Expo in 2014. The belt is suitable for meat and poultry production as well as a wide variety of other food processing applications.
The patent-pending clinched-edge design of DURAFLEX Edge minimizes the chances of product contamination. The belt bends with a true hinge in both directions to eliminate catch-points, friction and metal fatigue; and it ensures proper tracking. Field tests show belt life to be five to 10 times longer than standard wire belts. It's lightweight, easy to clean and the splice point is as strong as the rest of the belt. There's less maintenance during the belt's life, which results in less downtime, according to Price.
Cambridge will offer at-show purchasers a guarantee that DURAFLEX Edge will last a minimum of three-times longer than the wire belt it is replacing or Cambridge will refund the purchase price.
About Cambridge Engineered Solutions
A division of Cambridge International, Cambridge is the world's largest metal conveyor belt manufacturer and a global leader in filtration screens. For more than a century, Cambridge has developed dynamic solutions, revolutionizing industry automation and plant operations. With more than 15 exclusive product lines and over 50 patents, our team of dedicated engineers and experts continually devise new methods to make lines run smoother, faster and handle more product weight. For information visit http://www.cambridge-es.com.