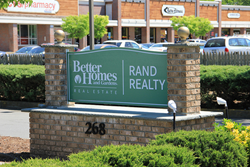 Mobile technology has changed how and where our agents conduct business, so our offices need to reflect that change.
NEW CITY, N.Y. (PRWEB) January 23, 2015
Better Homes and Gardens Rand Realty is very excited to announce the completion of the renovations that have been made to their flagship Rockland County office at 268 South Main Street in New City.
"Congratulations to Rand Realty on completing renovations to their office, right in the heart of downtown New City," said Clarkstown Supervisor Alex Gromack. "This initiative is exactly what we planned and hoped for during our revitalization of the hamlet center.  Rand Realty has been a great asset to the Clarkstown community for the past 30 years, and I wish them success in the next 30 years." 
"It's exciting to have the most high-tech real estate office in the region," said Matthew Rand, Managing Partner of Rand Realty. "Our goal was to create a space where consumers would feel comfortable and at-home, while helping our agents to work, collaborate, and make presentations with the best of today's technology."
The centerpiece of the office is a large informal lounge area with a coffee bar and 70-inch flat screen for watching videos and making presentations. The office also includes private meeting rooms equipped with Apple TVs, touchscreen computers throughout, plug-and-go desks, and central charging stations.
"Mobile technology has changed how and where our agents conduct business, so our offices need to reflect that change," said J.P. Endres, Manager of Rand Realty's New City sales office. "New City is a great example of what today's tech-savvy agent is looking for in an office. We're so excited to be the model for the future."
Rand Realty plans to dedicate the new office during a special ceremony on Thursday, February 5 from 12-2:30pm and a ribbon-cutting at 12:30pm.
About Better Homes and Gardens Rand Realty
Better Homes and Gardens Real Estate - Rand Realty, founded in 1984, is the No. 1 real estate brokerage firm in the Greater Hudson Valley, with over 25 offices serving Westchester, Rockland, Orange, Putnam and Dutchess counties in New York, as well as Bergen, Morris, and Passaic counties in New Jersey.
Rand Realty has more than 800 residential real estate sales associates, as well as a commercial real estate company (Rand Commercial Services) and the Hudson United Group, which provide residential mortgage lending, title services, and commercial and residential insurance.
The companies can be found online at http://www.randrealty.com, http://www.randcommercial.com and http://www.hudsonunited.com. Rand Realty can also be found and interacted with on Facebook and Twitter.