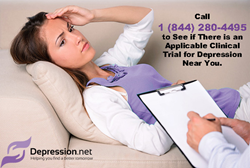 Depression.net - Helping You Find a Better Tomorrow.
Chula Vista, CA (PRWEB) January 23, 2015
Depression.net (http://www.depression.net/) has instituted a free 800 Concierge number 1 844-280-4495 that will help patients that suffer from Post Traumatic Stress Disorder (PTSD), to find Clinical Trials in treating this disorder.
Clinical Trials are becoming the most sophisticated opportunity for healthcare providers to allow patients to engage in trials and be given the most modern forms of treatment. The search for the cure to PTSD intensifies as patients struggle to tolerate daily changes that negatively affect every single aspect of their life. Clinical Trials allow patients that are treatment resistant, to be treated with a medication that is not available to the public yet. Highly trained and skilled doctors conduct the trials, which are at no cost to the patient. Finding the right Clinical Trial may be the treatment for what many think is an incurable disorder.
Entrepreneur and Businessman, Blaine Pollock is the creative force behind Depression.net. Mr. Pollock has dedicated his life to providing global health services and education.
Follow Blaine Pollock at http://blainepollock.com/ and http://blainepollock.net/.