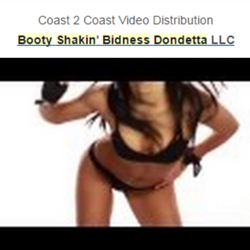 Los Angeles, CA (PRWEB) January 22, 2015
Coast 2 Coast Mixtapes presents the release of the "Booty Shakin' Bidness" Music Video by Tony Don Detta. The brand new visual is available for viewing on the Coast 2 Coast Website. When viewing the new music video, Imagine you are in a spaceship and you need a planet to land on, you pickup intergalactic noise from a strange star sector. Bass sounds and something saying in the distance: "Earth girls, so fantastic". The only choice is planet "Booty Shakin Bidness".
A New York native who grew up as a military brat living in many places, South Carolina, Florida, and Kingston Jamaica, Don Detta took Violin lessons as a child, but never got the chance to finish. He explains between other kids beating him up and family members laughing, he gave up quick and started to DJ to fill the void. Being a DJ exceeded his wildest dreams because it took him to another place and expanded his horizons even more. Almost immediately he started writing rhymes while doing shows at small clubs.
Don Detta eventually ended up in California and learned the music business by watching various groups advertise and hustle their talents back and forth across the state. But the problem with California was his love for basketball, and with that came all the college scholarship offers to play. Thinking he could do both and later realizing that he couldn't, the music was put on hold for a few years. Don Detta eventually lost interest in basketball after suffering a knee injury and his playing time diminish, but still had the appetite for music. He said he never felt out of control doing music. While going through rehab, he used it as an opportunity to write more than 25 songs.
He put together beats by going online and searching for beat producing websites. There he found a treasure chest of talented producers looking for writers to put their creative work into motion. This is where Don Detta felt free to create and record continuously. He explains that every new beat is a different song and feels very lucky to be creative enough to write in any situation. Forming his own label Don Detta LLC, he produced videos and marketed those videos through YouTube, and other social media outlets. This freedom allowed Don Detta to self-produce the Starr Playa CD as well as time to experiment while making it. He says, "I had to fight the old me to let the new me take flight."
Don Detta is currently on the road, honing his live show, and playing at every place that will have him. He says, "it's gaining momentum and with the live show I'm excited. There's a lot of stuff coming off the top of my head that's happening on stage. Being on the road is what I've always wanted." He is putting his songs down on stage the way he wants and creating a fully realized album that's a culmination of where he's been and where he's going. That is sure to win him the notoriety that is demanded by the depth and quality of his songs.
Keep up to date with Tony Don Detta on twitter at: @TonyDondetta
About Coast 2 Coast Mixtapes
Coast 2 Coast Mixtapes are the most widely distributed mixtapes in the world, with over 100 million downloads/plays generated by over 200 volumes officially hosted by major artists. Coast 2 Coast has a solid reach in the new music industry with a digital magazine, DJ coalition, industry tips blog, yearly convention, and more. Coast 2 Coast Mixtapes represents a unique opportunity for artists of all urban genres, from major to indie. For more information, visit http://www.coast2coastmixtapes.com.