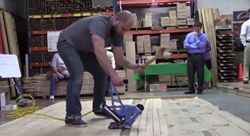 As always, the "Fastest Nailer in the East" contest is certain to be the highlight of the event.
Conshohocken, PA (PRWEB) January 23, 2015
The Philadelphia Floor Store (PFS), the nation's leading hardwood flooring distributor, will hold their annual "Nailer Day" on Thursday, March 19, 2015 from 10:00am to 4:00pm. The free event will take place at the distributor's Conshohocken, PA location.
As always, the "Fastest Nailer in the East" contest is certain to be the highlight of the event. The hardwood flooring contractor to nail down 18 square feet of wood in the least amount of time will claim the title and $500 Grand Prize. Video from last year's contest can be viewed on the company's YouTube channel – watch now.
Flooring contractors in attendance will receive exclusive discounts and have a chance to win tools, equipment and other prizes. Representatives from all the top manufacturers will be on hand. As always, Philly Floor will offer free labor on nailer repairs that day.
Save the Date
What: Philadelphia Floor Store Nailer Day 2015
When: March 19, 2015
Where: Philadelphia Floor Store – 1050 Colwell Lane, Suite 300, Conshohocken, PA 19428
Details on registration will be forthcoming. For more information about Nailer Day, or to pre-register, please call 800-737-1786 or email katie.mccormick(at)phillyfloor(dot)com.
###
About PFS
PFS is a leading provider of unfinished and prefinished hardwood flooring and accessories including stains, finishes, abrasives, flooring tools, and sanding equipment. Family owned and operated, PFS has been serving hardwood flooring contractors for more than 20 years and provides the expertise needed to install and maintain hardwood floors. The company offers all the top name manufactures including, Aacer, Century, Norton, Lagler, 3M, Clarke, Bona, Basic, Primatech, Bostick, and more. The company's in-house resources include a top-ranked Machine Repair Center, Rental Center, In-house Chemist, and Gym Floor and Wood Floor Consultants. PFS educates customers via personalized service, online training materials, videos, and free events. Visit the PFS showroom in Conshohocken, PA or shop online at phillyfloor.com.
For product information and training videos, visit the company's You Tube channel or Blog. Visit Philly Floor on Facebook or follow the company on Twitter at @PhillyFloor. For media inquiries, contact Caran Baxter at caran.baxter(at)phillyfloor(dot)com or call 610-940-5757.