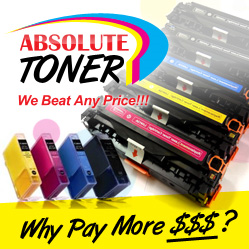 Toronto, Ontario (PRWEB) January 27, 2015
Compatible for Brother TN-630 Black Laser Toner Cartridge is the high yield version with 2,600 pages. It works with more Brother laser printer models for greater compatibility and optimal usage.
Absolute Toner is now carrying this cartridge for those who need such a printing device for better output management. Along with the high yield version is the Compatible for Brother TN-630 Black Laser Toner Cartridge. It is a smart money-saving technique for people who replace Brother TN630 Black Toner cartridge with this compatible laser cartridge.
It provides users with maximum of 2,600 pages based on the industry standard 5% page coverage. Those who use it will get quality prints that are best delivered through their printer with a valuable discount, which is essential for people and of course with Absolute Toner. Backed by their lifetime warranty plus a hundred percent satisfaction guarantee, users can see how Absolute Toner stands behind their compatible products. People will also find excellent compatible ink cartridges as well as toner cartridges on the website.
The Compatible for Brother TN-630 black toner cartridge high yield can also work with:

Brother DCP-L2520-DW
Brother DCP-L2540DW
Brother HL-L2305W
Brother HL-L2360DW
Brother MFC-L2720DW
Brother HL-L2320D
Brother HL-L2380DW
Brother MFC-L2740DW
Brother HL-L2300D
Brother HL-L2340DW
Brother MFC-L2700DW
Now, with this latest product, replacing Brother TN630 Black Toner cartridge with the compatible laser cartridge is very easy without any hassle when doing the process. The cartridge is not just perfect for its high yield capacity of 2,600 pages but also with its great compatibility with other Brother Printer models that users may have. It is money-saving and at the same time time-saving device which can give maximum benefits to those who will use it.
Are you looking for more options? Visit Absolute Toner website. It offers a wide range of essential products when it comes to efficient printer products as well as cartridges such as this one. Hurry now and buy this product to experience its valuable features as well as great affordability. Don't be left behind limited stocks are only available, buy one now!
For more information about the Compatible for Brother TN-630 toner cartridge, they may visit the link http://www.absolutetoner.com/brother-tn630-toner-cartridge-compatible.html for more product information and how to buy it.