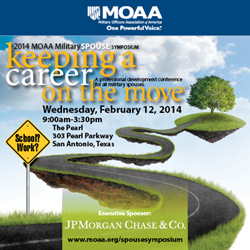 JPMorgan Chase is honored to continue our partnership with MOAA to help position military spouses for success.
Alexandria, Va. (PRWEB) January 26, 2015
Military Officers Association of America (MOAA) announces receipt of a grant from JPMorgan Chase & Co. that will help create three regional military spouse symposia in 2015, beginning in Virginia Beach, Va., Feb. 24. The second will be in the Washington metro area, and the third in Tampa, Fla.
The grant enables the expansion of MOAA's eight-year initiative to conduct an all-day professional-development conference for military spouses titled "Keeping a Career on the Move®." These high-touch events build the bridge for successful transition and unite talented job seekers with potential employers, local and national resources. This program positively impacts the career trajectory of military spouses who are looking for employment or preparing for a future career.
"For the second year, JPMorgan Chase & Co. has shown such generosity by sponsoring three MOAA spouse symposia events. Their grant helps us deliver a program that provides professional development, education and information to support military spouses who want to create, continue or enhance a career in this transient lifestyle," said MOAA president, Vice Adm. Norb Ryan, USN (Ret). "MOAA is known for providing personal support to all military spouses, and this grant helps us deliver our award-winning program at different installations across the country."
"JPMorgan Chase is honored to continue our partnership with MOAA to help position military spouses for success," said Maureen Casey, head of Military and Veterans Affairs at JPMorgan Chase. "Balancing the demands of a career and family life can be challenging, especially when you throw in frequent moves, spouse deployments and other issues unique to military families. We are grateful for the sacrifices that many military spouses have made. More importantly, we value their talent and are pleased to play a role in helping them build meaningful careers."
The bank's support of "Keeping a Career on the Move®," is part of a broader commitment JPMorgan Chase has undertaken to support U.S. military veterans and spouses as they seek careers in the private sector.
"Keeping a Career on the Move®" is designed to inform, empower and inspire military spouses. For more information on the 2015 Military Spouse Symposia schedule or to register, please visit http://www.moaa.org/spousesymposium.
-End-
About MOAA:
Military Officers Association of America (MOAA) is the nation's largest officers association with more than 380,000 members from every branch of service, including active duty, retired, National Guard, Reserve, and former officers and their families and survivors. MOAA is a nonprofit and politically nonpartisan organization and an influential force in promoting a strong national defense. MOAA represents the interests of service members and their families in every stage of their lives and careers, and for those who are not eligible to join MOAA, Voices for America's Troops is a nonprofit MOAA affiliate that supports a strong national defense. For more information, visit http://www.moaa.org or http://www.voicesfortroops.org/.
About JPMorgan Chase:
JPMorgan Chase &Co. (NYSE:JPM) is a leading global financial services firm with assets of $2.6 trillion and operations worldwide. The Firm is a leader in investment banking; financial services for consumers and small businesses, commercial banking, financial transaction processing, asset management and private equity. A component of the Dow Jones Industrial Average, JPMorgan Chase & Co. serves millions of consumers in the United States and many of the world's most prominent corporate, institutional and government clients under its J.P. Morgan and Chase brands. Information about JPMorgan Chase's programs for military members, veterans and their families can be found at http://www.ChaseMilitary.com.
Members of the news media who wish to be added to our media distribution list for MOAA news releases, please contact requestnews(at)moaa(dot)org. Visit MOAA's Multimedia & Press Room at http://www.moaa.org/media/default.htm.