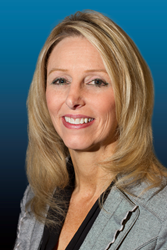 I look forward to working with her to optimize our crude oil logistics services so our customers experience an accurate and coordinated process and seamless connection to information. - Jim Imbler, First River Energy president and COO
Denver, CO. (PRWEB) January 26, 2015
First River Energy LLC, a crude oil gathering and marketing company focused on independent crude oil producers, today announced it has named Rebecca Schuckman senior scheduler and operations manager. In this role, Schuckman will run all transportation, pricing, contracts and pipeline scheduling, while also assisting with risk and developing processes and procedures.
"Rebecca brings more than two decades of experience in oil and gas supply chain coordination," said Jim Imbler, First River Energy's president and chief operating officer. "I look forward to working with her to optimize our crude oil logistics services so our customers experience an accurate and coordinated process and seamless connection to information relevant to their operations as we purchase, transport and sell crude oil."
Before joining First River Energy, Schuckman was senior pipeline scheduler, mid-continent for NGL Crude Logistics/High Sierra Crude Oil and Marketing, which followed positions of increasing responsibility at High Sierra Energy, L.P., TransMontaigne Product Services Inc., Whiting Oil & Gas Corp, and Tesoro Refining and Marketing.
"I look forward to helping First River Energy deliver a full range of liquids logistics services as we expand our operations in South Texas, the DJ Basin and the Permian, with future expansion planned throughout the United States," Schuckman said. "It is important to provide our customers, independent producers, with a unique and superior customer experience that only First River Energy is able to provide."
Schuckman has a bachelor's degree in marketing from Regis University.
Learn more about oil gathering and marketing solutions for small independent crude oil producers and end users at http://www.FirstRiverEnergy.com.
About First River Energy
First River Energy is a Denver-based based crude oil midstream company focused on evolving energy logistics through seamlessly connecting producers to markets. For more information, visit http://www.FirstRiverEnergy.com.