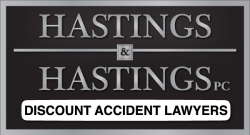 Phoenix, AZ (PRWEB) January 24, 2015
Hastings and Hastings, a Phoenix law firm that focuses on personal injury representation announces 2014 record demand for in-home and Hospital legal consultation visits. Those who been injured due to the negligence, errors or wrongdoing of another individual or corporation often require experienced and dedicated personal injury representation. Unfortunately, many injury victims are simply unable to travel to an attorney's office. When this happens, working with the right legal team can make all the difference. For example, Hastings and Hastings is a firm that takes pride in offering in-home and in-hospital legal consultation visits. Most importantly, Hastings and Hastings does not charge for an initial consultation visit to a client's home or to the hospital. This takes the pressure off of those who have been injured in some kind of accident.
With decades of experience, the firm has a qualified team of accident attorneys that are located throughout the state of Arizona. The firm has established nearly a dozen offices throughout Arizona that feature experienced attorneys in each location. The firm offers upfront and honest fee structures so that clients know what to expect from the very outset. There is never confusion or any misunderstandings when it comes to the fees established by Hastings and Hastings. This simply means that the fee that is quoted from the outset is the fee that will be in effect throughout the entire duration of any recovery effort. It is the straightforward, honest and transparent interaction that has allowed Hastings and Hastings to earn a trusted and impressive reputation year after year throughout Arizona.
Hastings and Hastings handles a full array of accident events including everything from motorcycle collisions to wrongful death and trucking collisions. In addition, serious injuries and injuries involving paralysis and brain damage are routinely handled by this reliable, dependable and trustworthy Arizona personal injury firm. In addition, slip and fall accidents, property damage related cases and dog bite accidents as well as pedestrian and bicycle accidents are handled by the team of dedicated attorneys working with Hastings and Hastings.
With well over 150 years of total combined industry experience, Hastings and Hastings has proven that it has the focus and dedication that clients expect and deserve. Providing clients with the opportunity to focus on the healing process and focus on their family is an important aspect of helping those who have been injured through no fault of their own to recover more quickly. With a growing number of serious injuries occurring on a daily basis throughout the state of Arizona, having the option to be visited in the hospital or at home can make all the difference. This recent announcement with regard to 2014 record demand for in-home and hospital legal consultation visits is one more way that Hastings and Hastings is helping clients throughout Arizona.
Hastings and Hastings is a leading provider of discount personal injury legal services located in and serving the greater Phoenix Metropolitan area. This respected legal firm specializes in assisting individuals that have been the victim of serious injuries that have resulted from accidents that were not fault of their own. Hastings and Hastings is a trusted group of attorneys that deliver personalized service and guidance for injury victims throughout Phoenix and all across the state of Arizona. Hastings and Hastings is known throughout legal circles as a dedicated team of professionals and a law firm that has been representing accident victims throughout Arizona for decades. Hastings and Hastings has consistently exceeds client's expectations with regard to representing a wide array of accident related injury victims at times when it matters the most and always doing so with discount attorney's Fees.