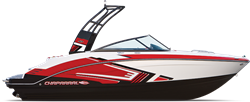 Chaparral is very suddenly the hottest thing going in jet drive runabouts. These Vortex models are exciting, comfortable, top performers and include the same luxury features boaters have become accustomed to in Chaparral's stern drive runabouts
South Bend, IN (PRWEB) January 25, 2015
Chaparral Boats will be making a big splash this coming weekend as part of the Pier 33 display at the Michiana Boat and Sports Show at Century Center in South Bend, Indiana. Boat show attendees will have an ideal opportunity to register for a chance to win a new Vortex Jet Boat from Chaparral.
Pier 33 will display Vortex Jet Boats by Chaparral, with an eye-opening selection including the Vortex 203 VR, 203 VRX and 223 VRX.
"Chaparral is very suddenly the hottest thing going in jet drive runabouts. These Vortex models are exciting, comfortable, top performers and include the same luxury features boaters have become accustomed to in Chaparral's stern drive runabouts," said Pier 33 General Manager Tighe Curran.
Just a couple of weeks ago, Chaparral announced a nationwide sweepstakes running thru July 31, 2015, with a brand new Chaparral 203 Vortex VR to be awarded to one grand prize winner. Entries can be submitted on-line at http://www.chaparralboats.com, and also by visiting a Chaparral dealer, or a special event like the boat show. Said Curran, "Not only will we have the Vortex models on display, but our staff will be ready to receive written entries. Just stop in for a visit and complete the entry form."
Complete sweepstakes rules can be found on-line at Chaparral's website.
In addition to Vortex jet boats, Pier 33's boat show display will include a selection of Robalo family fishing boats and Chaparral models including the Chaparral 264 Sunesta, the highest-value boat scheduled for display, carrying an MSRP of over $130,000.
"We'll have half a million dollars in new boats on display, in our booth alone," said Curran.
The Michiana Boat and Sport Show will be held at Century Center in downtown South Bend, IN. The boat show begins Friday January 30 and runs thru Sunday February 1. Boat show admission is $3 and additional details can be found at http://www.pier33.com.
Pier 33 is a full-service marina and boat dealer located in St. Joseph, Michigan. In addition to being a dealer for Robalo and Chaparral Boats, Pier 33 also represents new boats from Pursuit Boats, features a full selection of used boats and provides complete boat repair, dock and storage services to boaters from Michigan, Indiana and Illinois.