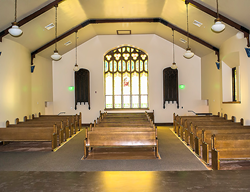 Music is another language. It's a connections between people of all different cultures.
Mount Pleasant, Utah (PRWEB) January 27, 2015
The First Presbyterian Church, constructed in 1875, opened January 19th to students at Wasatch Academy as a fully restored music conservatory. The building was restored by Wasatch Academy.
Performances in the main hall can be simulcast to outdoor concerts at the amphitheater.
Matt Schukis, Performing Arts Department Head at Wasatch Academy said, "With our new WAMS (Wasatch Academy Music Series), local, national and international artists will perform at our conservatory."
A dedication ceremony for the new conservatory will be held Friday, February 6th, 2015 at 4:45 p.m.