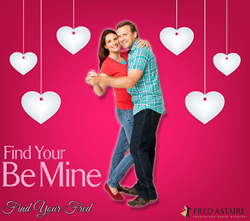 "Ballroom dancing helps couples build a stronger connection with each other while providing myriad benefits to maintain a healthy heart."
Longfellow, MA (PRWEB) January 27, 2015
Men in search of the perfect gift for her on Valentine's Day have traditionally looked to the old standbys of candy, jewelry and flowers, but a recent survey conducted by a popular dating website* found that 87 percent don't need anything other than the gift of time spent with their sweetie.
Local couples are finding a healthy and romantic way to spend time together through the timeless art of ballroom dance, and research shows it's not only a great way to strengthen their emotional bond, but a terrific activity to keep their hearts strong.
"We see more couples coming into the dance studio this time of year looking for something romantic that they can do together," says Jack Rothweiler, President and CEO of Fred Astaire Dance Studios with studios in our area. "Ballroom dancing helps couples build a stronger connection with each other while providing myriad benefits to maintain a healthy heart."
February is American Heart Month, and nothing keeps people's hearts as emotionally and physically sound as gliding across the ballroom dance floor with their romantic partner. According to Psychology Today, partner activities like ballroom dancing helps strengthen a couple's emotional bond. Plus, the National Heart, Lung and Blood Institute, says ballroom dancing reduces the risk of heart or coronary artery disease.
Read more: 14 reasons why dance lessons make the perfect Valentine's Day gift
The HEALTH Equation : Dance = Heart Health
Studies show that dancing continuously for 30 minutes has the same impact on weight loss as walking, swimming, or cycling. (Mayo Clinic)
A study conducted by medical researchers in Italy found that people with heart failure who took up waltzing improved their heart health, their breathing and their quality of life significantly more than those who exercised by bicycling or walking on a treadmill. (Lancisi Heart Institute in Ancona, Italy)
A weekly dance program improves physical performance and increases energy levels among adults. (The Scholarly Publishing and Academic Resources Coalition)
Social dancing is a great way to keep older Americans engaged. Aside from giving people something to enjoy, it reduces social isolation and even aches and pains frequently experienced in old age. (Dr. Jonathan Skinner, Queens University of Belfast, Ireland)
The Heart Truth = Quick facts about heart disease**
Heart disease is the number one cause of death for both men and women in the United States, claiming approximately 1 million lives annually.
Every 33 seconds someone in the United States dies from cardiovascular disease, which is roughly the equivalent of a September 11th-like tragedy repeating itself every 24 hours, 365 days a year.
An estimated 80 million Americans have one or more types of heart disease.
In 2008, the total cost of cardiovascular disease (coronary heart disease, hypertensive disease, heart failure and stroke) in the U.S. was estimated at $448.5 billion. (This includes direct costs such as costs of doctors, hospital services, medications, etc., and indirect costs such as lost productivity.) In comparison, the estimated economic cost of cancer in 2007 was $219 billion.
*eHarmony
**American Heart Association
###
About Fred Astaire Dance Studios®
Co-founded in 1947 by the legendary Fred Astaire, our studios set the standard of excellence in dance instruction. Fred Astaire Dance Studios has Ballroom and Latin style dance lessons for all ages and abilities in a fun, friendly atmosphere. Our unique method of instruction will allow you to learn dances from the Foxtrot to Salsa faster and more easily than you could anywhere else. Our mission is to enrich the lives of anyone and everyone who is associated with our company and to become your community dance studio.