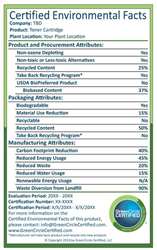 Royersford, PA (PRWEB) January 27, 2015
As some of the largest purchasers of goods and services, federal agencies have long been at the forefront of sustainable procurement. Responding to mandates, executive orders, and internal goals, agencies such as the Department of Defense (DoD) and many others have collectively been looking for a method to simplify the sustainable procurement process for federal purchasers and consumers alike. GreenCircle Certified, LLC has developed, and is currently looking for manufacturers to participate in, a Multi-Attribute Label Pilot Program that can be used to connect sustainable product manufacturers with federal purchasers and aid in meeting federal procurement requirements.
While other federal agencies are developing specific product category standards, Federal Executive Order 13514 requires sustainable purchasing regardless of whether a product category standard has been established. Tasked with meeting sustainable procurement mandates in the short term, while also working to meet long-term objectives, these federal agencies are turning to third-party multi-attribute certifications. Following continued complaints of greenwashing and misleading sustainability claims, these agencies see third-party certification as the catalyst for ensuring accuracy and transparency in federal procurement.
With an annual sustainable procurement goal of 95% of products and services, the DoD has recognized and encouraged GreenCircle's Multi-Attribute Label Pilot Program to demonstrate the concept. A recent survey of policy makers and procurement agents at various DoD installations showed that over 80% of respondents believe third-party certification, like GreenCircle's multi-attribute label, would help them make better purchasing decisions and meet established procurement goals. Manufacturers participating in the pilot will be among organizations that are able to offer products that can directly help federal procurement agents meet sustainable purchasing mandates.
In the pilot, product sustainability information will be presented using GreenCircle's Certified Environmental Facts™ label. Much like a nutrition label, the Certified Environmental Facts certification details all necessary environmental information in a straightforward, easy to read manner. Providing federal purchasers and consumers with a comprehensive view of the product's overall sustainability, products with the mark stand out, quickly identifying the most sustainable option.
Beyond meeting federal sustainable procurement requirements, GreenCircle's multi-attribute audit and certification provides manufacturers a benchmark of products and operations that can be used to drive continuous improvement. Following the completion of a multi-attribute certification, many manufacturers have easily transitioned to performing Life Cycle Assessments utilizing the internal data collection systems set in place.
If you are interested in learning more about participating in the Multi-Attribute Label Pilot or want to obtain more information on the DoD procurement survey results, contact Annie Bevan, GreenCircle's Certification and Operations Manager, at Annie(at)GreenCircleCertified(dot)com or 610-569-1045.