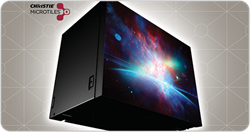 Christie MicroTiles keep getting better and offer an unprecedented viewing experience.
Cypress, California (PRWEB) February 18, 2015
Whether it's the London Stock Exchange, Stanford University, the Cleveland Museum of Art or numerous other locations including museums, sports facilities, universities and more, Christie® MicroTiles® continue to be a benchmark in visual display technology and now ship with a three-year warranty effective January 1, 2015.
"Extending the warranty from two to three years demonstrates Christie's continued confidence in MicroTiles," said Don Shaw, senior director of product management, Christie. "Christie MicroTiles keep getting better and offer an unprecedented viewing experience."
Winner of numerous industry awards since launching in November 2009, Christie MicroTiles have been continually improved:

Screens are now manufactured with the latest diffusion materials offering the best brightness and wide viewing angles.
S310 screens seams reduced to 0.7 mm for near-seamlessness in a tiled display.
New lens materials provide superior reliability under demanding conditions.
Digital Micromirror Devices (DMDs) have an enhanced seal to safeguard against humidity.
Modified connection points make it easier to fine-tune the alignment of tiles.
Firmware includes automatic notification of system warnings and events.
Factory calibration advancements ensure the best possible color matching between tiles.
With over 50,000 units in nearly 1,000 installations worldwide, Christie MicroTiles are the definitive standard for high resolution, direct-view tiled displays.
About Christie
Christie Digital Systems USA, Inc. is a global visual technologies company and is a wholly-owned subsidiary of Ushio, Inc., Japan. Consistently setting the standards by being the first to market some of the world's most advanced projectors and complete system displays, Christie is recognized as one of the most innovative visual technology companies in the world. From retail displays to Hollywood, mission critical command centers to classrooms and training simulators, Christie display solutions and projectors capture the attention of audiences around the world with dynamic and stunning images. Visit http://www.christiedigital.com.
Follow Christie at:
Twitter.com/christiedigital
Facebook.com/christiedigital