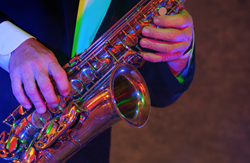 America's Best Riverfront City
Wilmington, North Carolina (PRWEB) January 27, 2015
The North Carolina 35th Annual Jazz Festival is set to wow music lovers with its superb line-up in two weeks. The festival takes place February 5th-7th at the Wilmington Hilton Riverside in Wilmington NC. It features three days of Jazz stylings including standards, swing and a tribute to George Shearing. Cultural events and festivals like this continue to make Wilmington one of the best places to live in North Carolina.
On Thursday, February 5th, there's a three hour special event "Styles of Jazz" featuring: The Benny Hill Quartet "Jazz standards," Molly Ryan with the Dan Levinson Quartet "Swing" (Mark Shane, Kevin Dorn & Bria Skonberg), Rossano Sportiello's tribute to George Shearing, with Nicki Parrott and Chuck Redd and Ed Polcer's Thursday All-Star Jam. February 6th and 7th feature an all-star musician lineup with a presentation of seven sets, each with different leaders. The complete list of artists includes such greats as the Benny Hill Quartet, Molly Ryan with Dan Levinson Quartet, Rossano Sportiello, Jonathan Russell, Bria Skonberg, Ed Polcer, Nicki Parrott, Mark Shane, Kevin Dorn, Chuck Redd, Herman Burney, Nate Najar, Dion Tucker and Adrian Cunningham.
The aim of the festival is to preserve and present various styles of Jazz. In addition the festival educates and inspires the next generation of Jazz enthusiasts and students through free workshops and six professionally led master classes. These classes, which include instruction on horns, woodwind instruments, guitar, percussion and violin, are open to music students from local schools and private teachers. Lifelong learning courses like these and a number of outstanding higher learning institutions are why Wilmington is one of North Carolina's best college towns. Schools in the area include the University of North Carolina, Cape Fear Community College, College of Wilmington, and Brunswick Community College.
The jazz festival is just a week before Valentine's Day and can be a great way to add romance to February. Wilmington's waterfront views and vibrancy make it a standout among North Carolina beach cities.
Located between the Cape Fear River and the Atlantic Ocean, Wilmington is part casual living and part innovative business. The city combines a sense of tradition with a need to push beyond the conventional. It is home to global corporations like GE-Hitachi Nuclear Energy, Verizon Wireless and Corning. Businesses big and small are drawn to Wilmington's quality of life and historic charm.
The city is often recognized in the media as one of the best North Carolina beach cities and one of the best places to live in North Carolina. In 2014, Wilmington was voted "America's Best Riverfront" by USA Today and was ranked #5 on Forbes list of America's Smartest Cities. In 2011, Outside Magazine named Wilmington "One of the Best Towns" and declared the area to be "The Next Big Thing." In addition, Bloomberg Business Week ranked Wilmington "The #7 Most Fun, Affordable City." Forbes rated the area one of the 15 best in the country for business and careers. If folks haven't explore Wilmington North Carolina for retirement, they're missing the beat!
When folks travel to check out North Carolina beach cities, Bill Boyer of Intracoastal Realty at 910.262.5414 to schedule a visit and who can show visitors the friendliest neighborhoods in Wilmington, North Carolina.
About Real Estate Scorecard:
Real Estate Scorecard writes unbiased real estate reviews providing in-depth information about popular gated communities in Florida, Georgia, North Carolina, South Carolina and Tennessee, all in an effort to help people discover where to retire in the Southeast.
Website: http://realestatescorecard.com