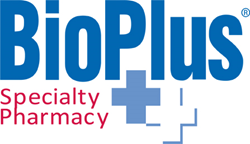 Altamonte Springs, FL (PRWEB) January 27, 2015
BioPlus Specialty Pharmacy (BioPlus), one of the nation's leading specialty pharmacies, once again earned accreditation from two important industry accrediting bodies: Verified Internet Pharmacy Practice Sites (VIPPS) and Accreditation Commission for Health Care, Inc. (ACHC).
"These renewals of our accreditations demonstrate our commitment to excellence in our products, services, and patient outcomes," says Nick Maroulis, Pharm.D., Vice President of Specialty Pharmacy Services at BioPlus. "It's one more way that BioPlus can let our patients, providers, and insurance payers know that our company is committed to the highest level of quality and accountability," adds Dr. Maroulis.
ACHC, a not-for-profit independent organization established in 1986, is one of a small number of accrediting bodies for the specialty pharmacy industry. Their accrediting programs are developed by providers for providers to reflect criteria that best represents quality care and patient safety. ACHC, the first health care accrediting organization to be certificated to the international quality standard of ISO 9001:2000, accredited BioPlus only after a thorough vetting process. ACHC accreditation indicates that the organizational management, internal processes, patient safety practices, and service outcomes at BioPlus meet the highest standards.
VIPPS is a voluntary program run by the National Association of Boards of Pharmacy that provides U.S. consumers with concrete information regarding the safety and quality of online pharmacies.
"The VIPPS certification gives patients and physicians the assurance that BioPlus offers a safe, secure pharmacy experience and that we operate as a fully licensed pharmacy in compliance with all applicable state boards of pharmacy statutes," explains Elvin Montanez, Pharm.D., Senior Vice President at BioPlus.
About BioPlus Specialty Pharmacy
BioPlus Specialty Pharmacy is the first specialty pharmacy to introduce a two hour turnaround from referral to patient acceptance. BioPlus... Where healing begins in 2 hours. Our company celebrates 25 years of excellence in specialty pharmacy, working closely with payers and the pharmaceutical industry, as well as with prescribers to get prompt treatment for patients, and directly supporting our patients nationwide to achieve optimal health outcomes. Our proprietary web tool Tap App, connects prescribers to the pharmacy by bringing the pharmacy chart into the doctor's office with real-time specialty pharmacy information and treatment monitoring.
BioPlus provides a complete range of infusion and specialty services, including for hepatitis C, cancer, bleeding disorders, and other complex, chronic conditions. BioPlus, a privately-held, pharmacist-owned company based in Altamonte Springs, Florida, is accredited by URAC, VIPPS, and the Accreditation Commission for Health Care (ACHC). More information about BioPlus is available at http://www.bioplusrx.com or toll free 1-866-514-8082.
For information: http://www.bioplusrx.com
Contact: info(at)bioplusrx(dot)com
Phone: 1-888-292-0744