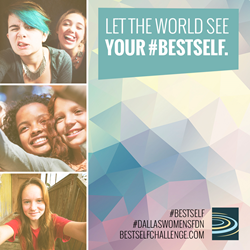 Dallas, Texas (PRWEB) January 27, 2015
Dallas Women's Foundation, the largest regional women's fund in the world, hopes to change the face of selfies. By using hashtags #bestself and #dallaswomensfdn, the organization is launching a social media challenge asking girls of all ages to post selfies that don't focus on their looks, but rather highlight their unique talents, interests, goals and dreams.
The challenge leads up to Dallas Women's Foundation's annual Gender in Media event, which addresses the portrayal of women in media. The Foundation is inviting girls ages 13 to 18 to "#Bestself, a Gender in Media Event" on Saturday, February 28, 2015 at Union Station in Dallas, Texas. The event, underwritten by Lauren Embrey/Embrey Family Foundation and Nancy Ann Hunt, and co-chaired by Gail Griswold, will feature discussions with Rosalind Wiseman, best-selling author of "Queen Bees and Wannabees," the basis for the movie "Mean Girls," and Rachel Simmons, co-founder of Girls Leadership Institute and author of the best-selling book "Odd Girl Out: The Hidden Culture of Aggression in Girls." Parents and educators are also invited to attend and learn tools to help support girls' decision-making and emotional well-being, equipping them to grow into strong individuals, supporters and leaders. Social media campaign participants who use both hashtags are eligible for a $50 gift card drawing and will get an opportunity to meet Wiseman and Simmons.
"What's been really interesting about this movement is seeing the uniqueness of each person's best self and then celebrating those differences. The #bestself challenge gives the opportunity for girls to defy the stereotypes placed in front of them each day through traditional and social media," explained Sarah Burns, Dallas Women's Foundation senior communications director. "We want women and girls of all ages to show their best self on their favorite social media channel, and then encourage their friends to do the same. This virtual ripple effect can have a positive change in a space that is so often superficial. In February we look forward to empowering young women and helping to create future leaders when Wiseman and Simmons join us in Dallas."
For more information and to participate in the #bestself movement, visit bestselfchallenge.com and join Dallas Women's Foundation on social media using #bestself and #dallaswomensfdn.
About Dallas Women's Foundation
Dallas Women's Foundation is the largest regional women's fund in the world. It is a trusted leader in advancing positive social and economic change for women and girls. The Foundation was built on the belief that when you invest in a woman, there is a ripple effect that benefits her family, her community and her world. Dallas Women's Foundation has researched, funded and demonstrated the ripple effect since 1985 in North Texas, granting more than $23 million since inception and over $3.1 million annually to help create opportunities and solve issues for women and girls. With the support of its donors, the Foundation unlocks resources to improve education and quality of life, give voice to issues affecting women and girls, and cultivate women leaders for the future. For more information, visit http://www.DallasWomensFdn.org, Facebook, Twitter, LinkedIn, Instagram or Google+.
# # #