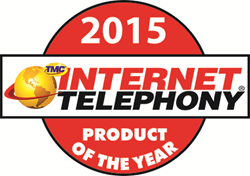 Overland Park, KS (PRWEB) January 27, 2015
EZtax® (fka BillSoft®, Inc.) announced today that TMC, a global, integrated media company, has named EZtax® and EZgeo® as recipients of the 2015 INTERNET TELEPHONY Product of the Year Awards.
EZtax provides VoIP and IP Communications providers with a total tax solution for accurately calculating and remitting taxes due on their services to end users, across the US, Canada, and 100+ countries. EZtax's flagship product, EZtax, is the most comprehensive indirect tax solution for service providers and offers a completely automated and cost-effective solution to stay in compliance with ever-changing rates and rules. EZtax supports taxation for thousands of distinct products and services. EZtax's processing speeds are upwards of 3.6 billion transactions taxed per hour.
EZtax offers a geospatial product, called EZgeo. EZgeo is the complete address verification and geocoding package for ensuring accurate and timely results for determining precise tax jurisdiction information. EZgeo provides standardized addresses through its CASS certified database. Users can store the standardized customer address in their billing system, which allows for accurate mailing to end users. In addition, EZgeo uses technology to convert a latitude and longitude pair to pinpoint the exact taxing jurisdiction for the end user, including E911 districts and other special tax districts. EZgeo is certified by the Florida Department of Revenue, allowing customers to qualify and receive a higher tax collection allowance, and be held harmless in a jurisdictional audit in Florida.
"We are honored once again to receive this prestigious recognition from Internet Telephony," said Tim Lopatofsky, EZtax's Founder & CEO. "Innovation and growth are leading the team into 2015, and we look forward to continuing our tradition of excellence."
"In the opinion of our distinguished judges, EZtax and EZgeo have proven to be among the best communications and technology solutions available on the market. I look forward to continued innovation from EZtax," said Rich Tehrani, CEO, TMC.
The winners of the 2015 INTERNET TELEPHONY Product of the Year are featured in the 2015 January/February issue of INTERNET TELEPHONY magazine and online at http://www.itmag.com.
EZtax® takes great pride in the outstanding products that are offered and continues to be innovative and competitive within the industry. For more information about EZtax®, please visit EZtax.com or contact us by calling 1-800-525-8175 or via email at sales@EZtax.com.
About EZtax®, Inc.
EZtax® offers indirect taxation solutions for thousands of distinct products and services with taxation in over 100 countries, representing 70,000 jurisdictions. EZtax® offers "Your Total Tax Solution", which encompasses geo-coding, tax calculation, consulting, and compliance services, while supporting all major platform environments and many standard interfaces. We make it EZ!
About INTERNET TELEPHONY magazine
INTERNET TELEPHONY has been the IP Communications Authority since 1998™. Beginning with the first issue, INTERNET TELEPHONY magazine has been providing unbiased views of the complicated converged communications space. For more information, please visit http://www.itmag.com. Follow INTERNET TELEPHONY magazine on Twitter or join our Linked In group. Subscribe or visit http://www.itmag.com.
About TMC
TMC is a global, integrated media company that supports clients' goals by building communities in print, online, and face to face. TMC publishes multiple magazines including Cloud Computing, M2M Evolution, Customer, and Internet Telephony. TMCnet is the leading source of news and articles for the communications and technology industries, and is read by as many as 1.5 million unique visitors monthly. TMC produces a variety of trade events, including ITEXPO, the world's leading business technology event, as well as industry events: Asterisk World; AstriCon; ChannelVision (CVx) Expo; Cloud4SMB Expo; Customer Experience (CX) Hot Trends Symposium; DevCon5 - HTML5 & Mobile App Developer Conference; LatinComm Conference and Expo; M2M Evolution Conference & Expo; Mobile Payment Conference; Software Telco Congress; Super Wi-Fi Summit - The Global Spectrum Sharing and TV White Space Event; SIP Trunking, Unified Communications & WebRTC Seminars; Wearable Tech Conference & Expo III; Fitness and Sports Wearable Technology (FAST) Expo II, WebRTC Conference & Expo IV; and more. For more information about TMC, please visit http://www.tmcnet.com.
EZtax Contact
Michelle Daigle
VP of Sales & Marketing
913-859-9674, ext. 184
sales(AT)eztax.com
TMC Contact
Rebecca Conyngham
Marketing Manager
203-852-6800, ext. 287
rconyngham(AT)tmcnet.com