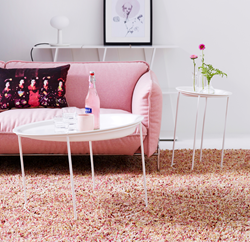 (PRWEB UK) 28 January 2015
The aspiration of the prestigious Swedish firm Karl Andersson & Söner is "to create furniture with a strong identity and unique character that will outlive passing trends." These characteristics are clearly reflected in Dizzy, one of the brand's latest creations.
Designed by Federico Churba, Dizzy is a set of three side tables in different sizes. The pieces comprise a removable round tray manufactured in HI-MACS® Alpine White, supported by a white steel structure, but what makes these tables really appealing is the fact that they lean slightly, defying the force of gravity. Dizzy conveys an amazing optical illusion that gives it movement and offers different impressions depending on the angle from which it is viewed.
With pure, geometric lines, these tables fuse the simplicity, functionality, and elegance that is so characteristic of Karl Andersson & Söner's Scandinavian design. The high durability and resistance of HI-MACS® fits in perfectly with the Swedish manufacturer's philosophy: "to create furniture that will survive use and wear over time." The acrylic stone was also ideal for creating Dizzy's unique trays, thanks to its extraordinary thermoformability, seamless joints, and smooth feel.
Dizzy reaffirms the trust placed in HI-MACS® by Karl Andersson & Söner, which had already opted for the acrylic stone for its BUFF and CERCO collections, the latter of which was also designed by Federico Churba.